Far East Horizon Has Been Selected for the FTSE4Good Index Series for 5 Consecutive Years
Recently, Far East Horizon (03360.HK) was once again selected into the FTSE4Good Index Series. Since the company was first enrolled in the FTSE4Good Index Series in 2017, it has been selected in the series for five consecutive years.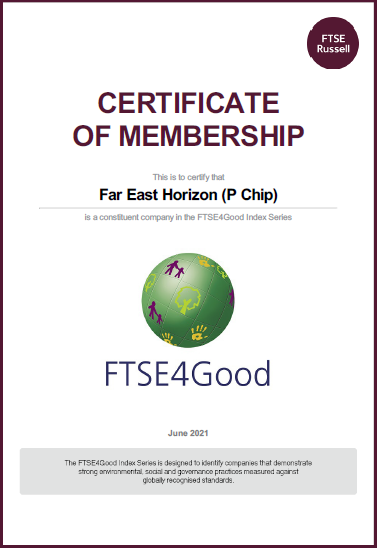 FTSE4Good Index Series is provided by FTSE Russel, the information service department of London Stock Exchange Group (LSEG). It is the first company which measures the performance index series of companies who compliance with globally recognized corporate responsibility standards. That is designed to filter out companies which meet globally recognized Environmental, Social and Governance (ESG) criteria.
It conducts ESG research on about 7,200 securities in 47 developed markets and emerging markets around the world, including the world's leading companies in environmental, social, and corporate governance practices. It is an important tool for an asset management institution, fund manager, investment consultants, investment banks, stock exchanges and brokers to help them evaluate and invest in outstanding companies with a positive reputation of social responsibility.
The FTSE Russel ESG rating framework consists of three core contents: environmental, social, and corporate governance with 14 evaluation subjects and more than 300 independent inspection indicators. In 14 evaluation subjects, each subject contains 10 to 35 indicators.
The FTSE Russel ESG Rating Framework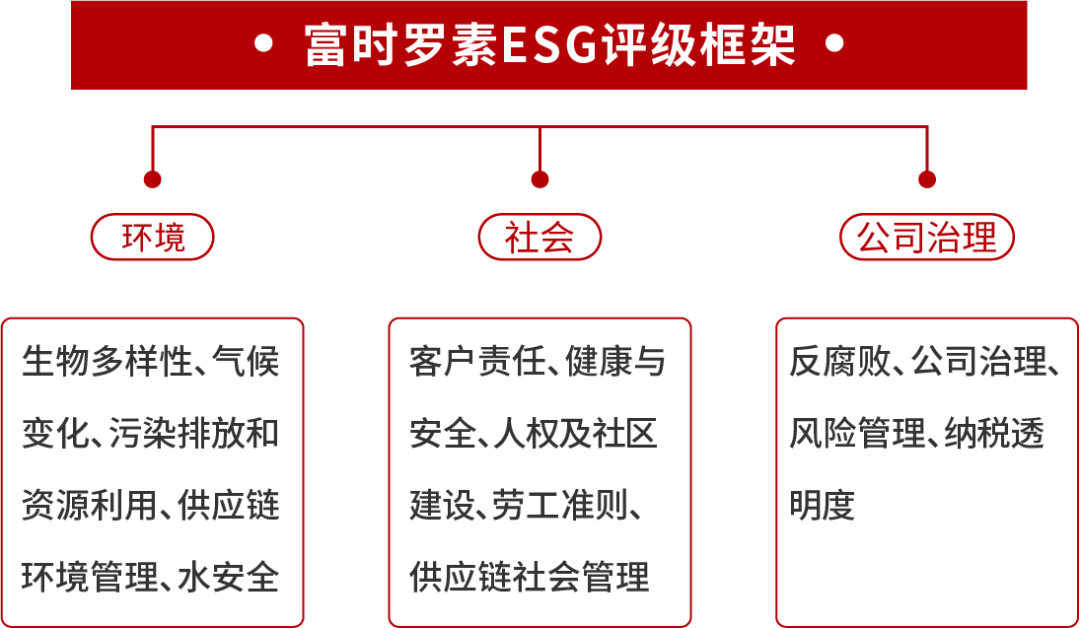 Environmental: biodiversity, climate change, pollution emission, resource utilization, environmental management of supply chain and water safety
Social: responsibility to customers, health and safety, human rights, community construction, labour standards and principles and social management of supply chain
Corporate Governance: anti-corruption, corporate management, risk management and tax transparency
As a comprehensive group which spans both finance and industries, Far East Horizon has the mission of "Integrating global resources, Promoting China's industries", adhering to the core responsibility concept of "creating value sharing and co-creating harmonious development", with constantly innovating and developing integrated industrial operation services. At the same time, Far East penetrates in five social responsibility areas, which include investor, customer, employee, environmental and public welfare responsibility to promote the healthy, sustainable, stable and harmonious development of the industrial economy and the entire society, creating value for all stakeholders.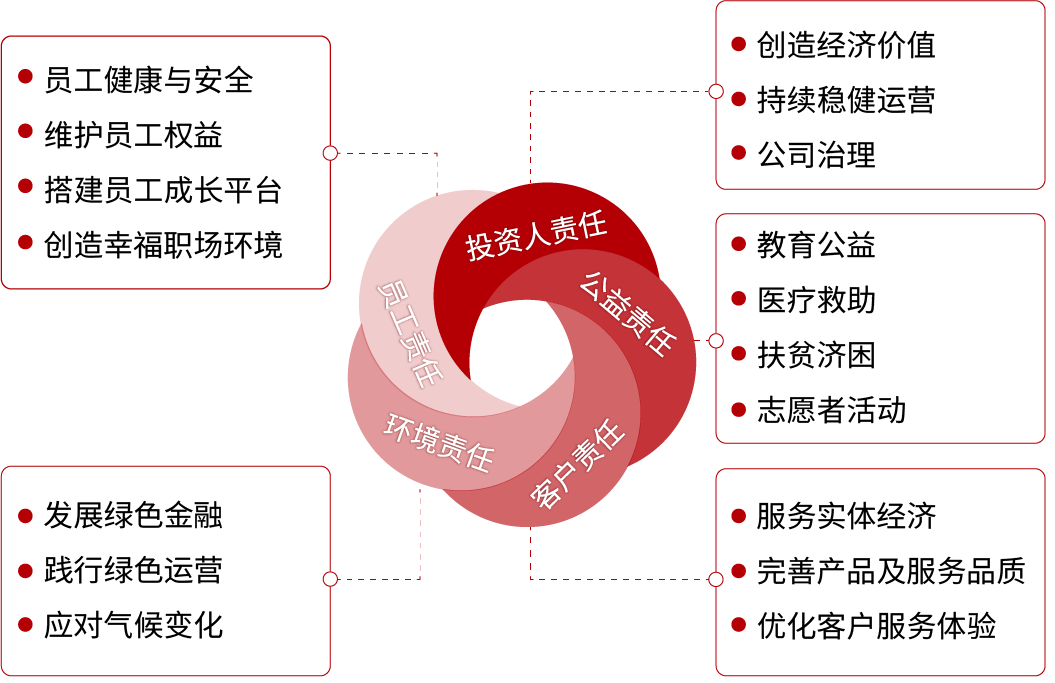 Investor responsibility: create economic value, continuous and stable operation and corporate governance
Public welfare responsibility: educational public welfare, medical assistance, help people who are in poverty and volunteer activities
Customer responsibility: serve the real economy, improve product and service quality and optimize customer service experience
Environmental responsibility: develop green finance, practice green operation and tackle climate change
Employee responsibility: health and safety of the employees, safeguard the rights and interests of employees, build a growth platform and create a happy workplace for employee.
Being enrolled in the FTSE4Good Index Series for five consecutive years is a strong recognition of the effectiveness of Far East Horizon's social responsibility management and practice. In the future, the company will further establish and improve the ESG management system, respond to the ESG risks actively, grasp ESG opportunities effectively, and continue to expand Far East Horizon's leadership in the field of sustainable development. Far East Horizon will achieve its own high-quality development while working with all parties to create a better future.