China's First!Far East Horizon  Issued a New Type of  Panda Bonds Reported by Xinhua News
Recently, Far East Horizon announced the trial issuance of its first sustainable development bonds in the China Interbank Bond Market. This innovative act is considered to be an important measure to perfect China's GSS bonds (green, social & sustainability bonds) market structure, as well as an attempt at a breakthrough and a beneficial practice in supporting China's sustainable development strategy by giving play to the functions of the financial market.

Upon release of this news, reports have been given by mainstream media including Xinhua News Agency, Shanghai Securities News, 21st Century Business Herald and YICAI, all of which speaking highly of Far East Horizon's innovative attempt in the financial market. According to these reports, the issuance of social and sustainability bonds in China's bond market can lead financial resources to support environmental and social sustainable development, help to satisfy the transformation and upgrade needs of brick-and-mortar enterprises, and enhance the international reputation of China's bond market; it holds great importance for China to implement the 2030 Agenda for Sustainable Development of the United Nations, and also contributes to filling the huge financing gap towards the realization of the sustainable development goal and the "dual-carbon" goal.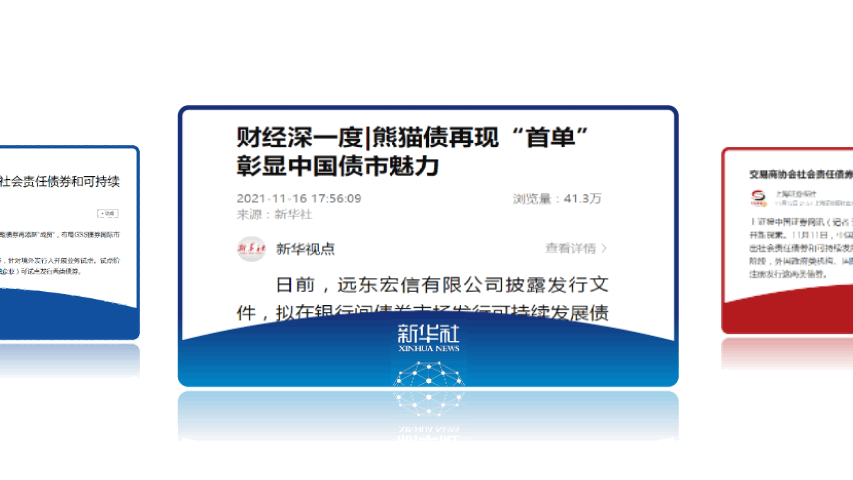 Supporter of National Strategy & Undertaker of Social Responsibility

As previously announced by the National Association of Financial Market Institutional Investors (NAFMII), it has launched the pilot program for overseas issuers to issue social bonds and sustainability bonds in China. And Far East Horizon's issuance of sustainability bonds is exactly an achievement of its innovation through continuous cooperation and mutual collaboration with the NAFMII.

Besides substantial support from the NAFMII throughout the process, Far East Horizon's issuance of sustainability bonds has been met with great enthusiasm from mainstream institutional investors. With Agricultural Bank of China and Standard Chartered Bank jointly as the lead underwriters, Far East Horizon's sustainability bonds are assessed and certified by Lianhe Equator—China's professional green bonds assessment and certification institution, and the entire process is scrutinized by Tian Yuan Law Firm.


△International definition of GSS bonds

According to the planning, the funds raised from this issuance of sustainability bonds will be used to support sustainable development goals including climate action, health & well-being, social equality and clean drinking water. The specific projects involved cover wastewater treatment, intelligent public transport, NEV purchase, health care for the elderly, etc., benefiting groups including elderly population, rural residents, less educated people and unemployed people. Thus, it will generate significant environmental benefits and social benefits.

Wang Mingzhe, Executive Director and CFO of Far East Horizon, expressed during an interview with the media: the issuance of social bonds and sustainability bonds can draw the attention of more investors caring about social responsibility and sustainable development, thereby helping enterprises to grasp business opportunities; it can also guide social capital to flow towards sustainable development, to support the sustainable development goal, meet the demands of various parties for financial enterprises to perform their social responsibilities and promote the green & low-carbon transition, and contribute to the high-quality development of the Chinese economy.

Constant Innovation without Limits

In fact, in the innovation of financing operations, Far East Horizon has been striving to make the most of innovation tools along with business development, once and again pioneering the development of this industry.

In as early as 2006, Far East Horizon issued the first ABS in the industry, which signified a breakthrough from indirect financing to direct financing, and initiated the Company's gradual transformation from bank financing to diversified financing.

It is worth mentioning that, Far East Horizon's sustainability bonds are issued based on its registered quota for panda bond issuance of this year, and Far East Horizon is also China's first qualified panda bond issuer in the financial lease industry.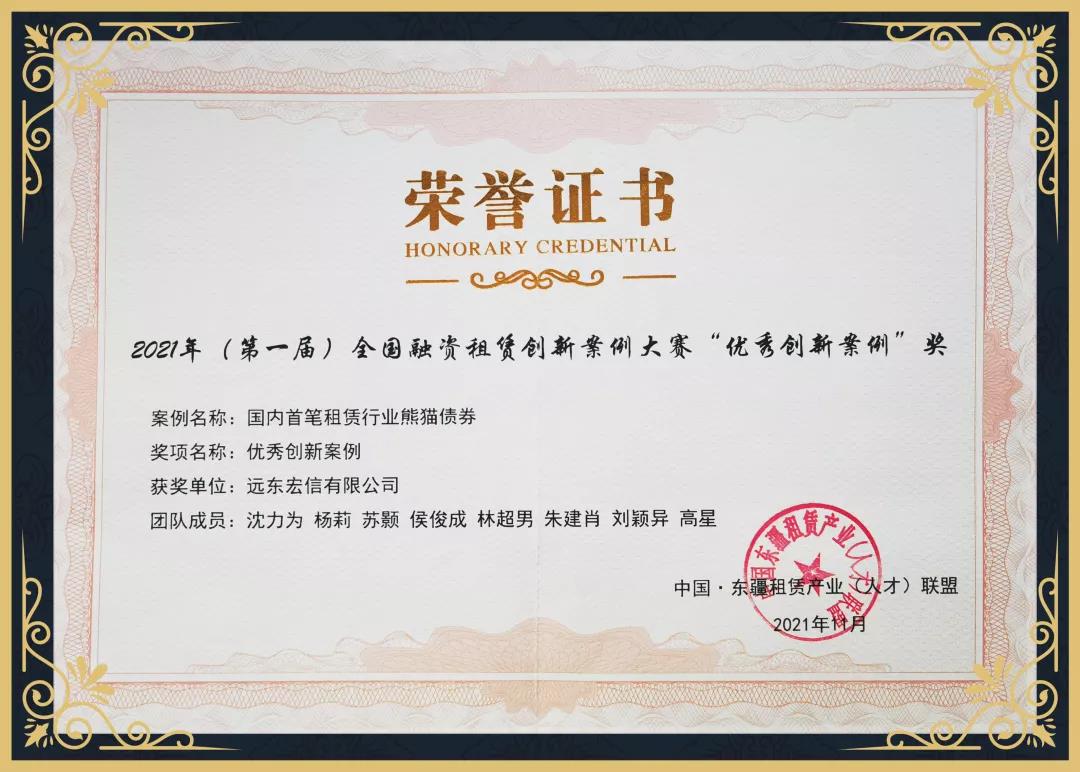 △ Excellent Innovation Case Prize awarded to Far East Horizon for "China's first panda bonds in the lease industry" at the 2021 China Financing Lease Innovation Case Competition

To response to state policies and guidelines including carbon neutral and green finance, in this August, Far East Horizon established an ESG Committee at the board level, to incorporate ESG work into the Company's strategic decision making, and pay high attention to sustainable development. Meanwhile, on the basis of the Company's existing public welfare foundations, Far East Horizon vigorously carried out public welfare and charity actions including education fund, medical aid and poverty relief projects, to connect business operations closely with social responsibility.

In the future, with this issuance of sustainability bonds as the starting point, Far East Horizon will actively fulfil its corporate responsibility, upgrade financial instruments through constant innovation to serve national strategies, and guide social capital precisely target benefited fields and disadvantaged groups precisely, so as to continuously accumulate precious experience and practice beneficial innovation for the capital market to serve real economy, improve people's wellbeing, and achieve prosperity for all.