Far East Horizon Convened its 2022 Mid-Year Working Conference Themed "New Era, New Journey"
On July 18, Far East Horizon's 2022 mid-year working conference of key positions was convened in Shanghai, attended by nearly 400 managerial employees of various business and functional directions. Represented by 27 general managers of traditional business, many business leaders holding the frontline participated in this video conference through over 30 branch venues across the country. Compared to previous conferences, the duration of this one is reduced to one day, which makes it a simplified, pragmatic and efficient conference.
△ Excerpt of President Kong Fanxing's speech at the mid-year conference
At this semi-year conference themed "new era, new journey," Executive Director and CFO Wang Mingzhe of Far East Horizon presented the budget implementation and performance analysis report for the first half of 2022, and Assistant President and General Manager of Strategy Center Xu Huibin reported on environmental and strategic review.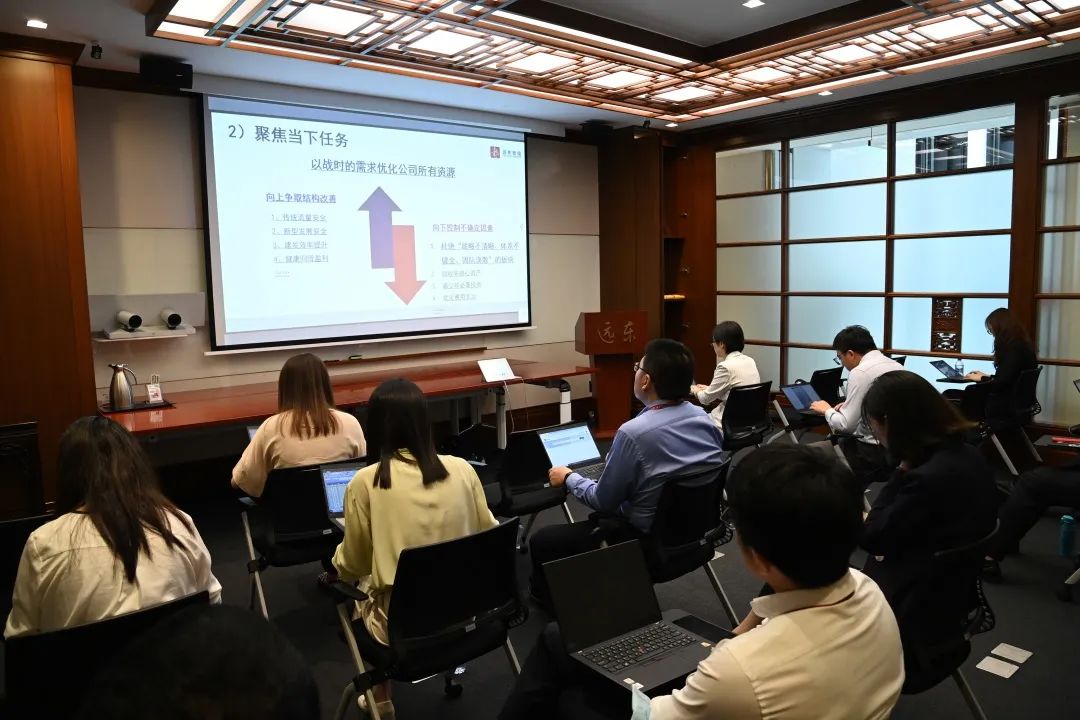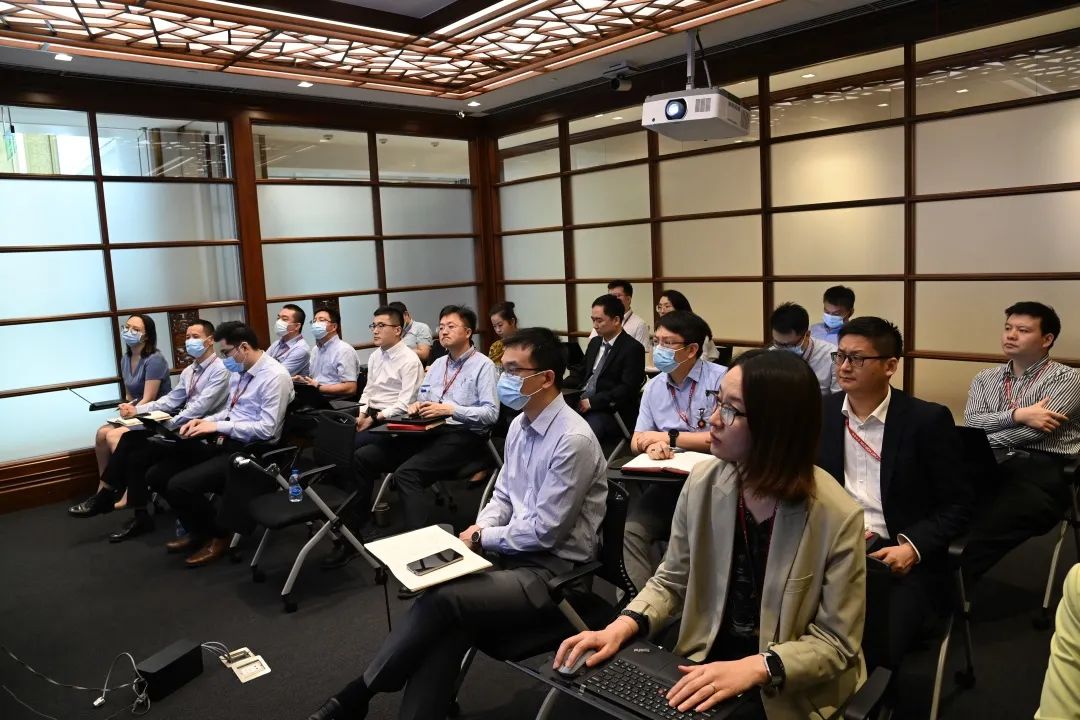 First Half of 2022

Effective Judgement, Orderly Operation, Courage Facing Hardships
Halfway through the year 2022, facing the flagging industry, reduced profits and repeated outbreaks of COVID-19, Executive Director and CFO Wang Mingzhe of the Company mentioned in the financial report that under pressure, Far East Horizon has achieved continued profit growth and overall orderly operation of the Company in the first half of 2022. Looking back on the first half of the year struggling forward, "fearless of hardships and fighting courageously" plays a key role in its hard-earned achievements. Taking the second quarter when Shanghai was most affected by the epidemic situation as an example: headed by President Kong Fanxing, the Company's leadership stationed themselves at the Company for over 80 days; with the joint efforts of the front, middle and back ends, Far East Horizon became then the only company operating normally with a complete set of staff sticking to their posts along the Huangpu River in the Expo Area.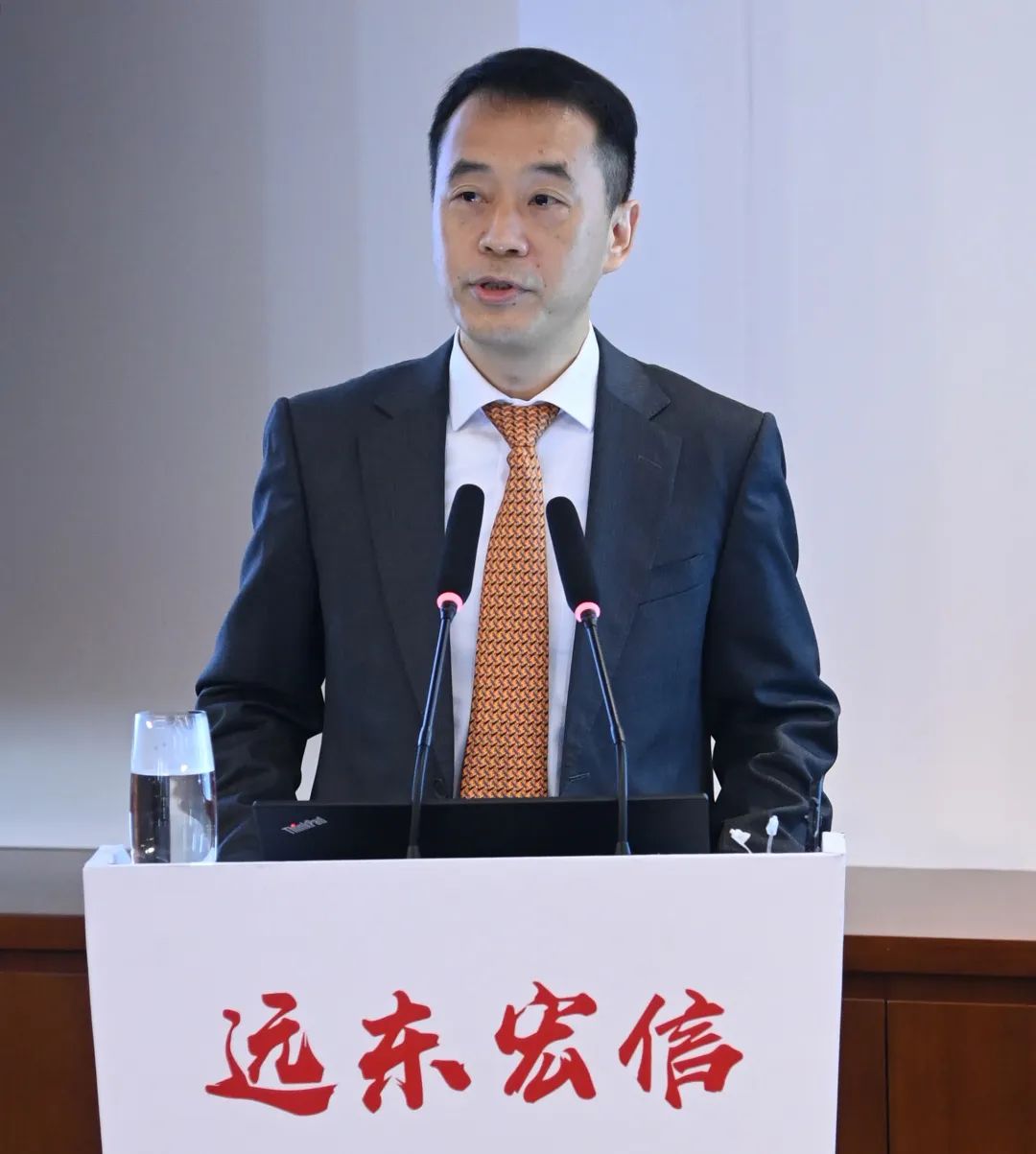 △Executive Director and CFO Wang Mingzhe presented the Budget Implementation and Performance Analysis Report
During report at the conference, it was pointed out that the Company's key indicators demonstrated a reasonable trend, and its operating results kept improving. In terms of traditional business, its production efficiency somehow increased, and the overall business flow realized a year-on-year growth; the Company was able to actively adapt its new business to environmental changes and market trends, with its business plan advanced safely and performance growing steadily; as for industry operation, it grasped opportunities and made timely adjustments in a turbulent environment, and continued to consolidate its market leading position.

Regardless of the environment, the nature of an excellent enterprise is vitality. During this "cold winter," Far East Horizon will focus on value creation and enhance the basis for its survival, "doing its best to live on." The report re-emphasized that in the future, the Company will continue to be oriented towards financial results, convert its strategic advantages into continuously growing profitability, form a financial structure better suited to the environment, and show great vitality through strategic upgrading.
Second Half of 2022

Tackling Difficulties, Heading on and Fulfilling Our Mission Determinedly with Joint Efforts towards the Future
When switching to a new cycle in this whole-new era, it is natural to feel confused and scared towards the future. How should Far East Horizon make its choice? Assistant President and General Manager of Strategy Center Xu Huibin stated resolutely in the strategic report that, "We cannot, will not and refuse to 'lie down!'" Along its journey, through trails and hardships, Far East Horizon has broken open a way through bramble and thistle, meanwhile persistently sticking to the right strategic direction, maintaining a flexible system for timely response, and pursuing innovation bravely and unremittingly. Thus, it has risen from the verge of bankruptcy to join the rank of top 500 enterprises in China, driven the overall development of the industry, and continued to upgrade itself. Such profound accumulation provides us with confidence and strength to face up to the future, and sufficient reasons for us to rose to the challenges by choice.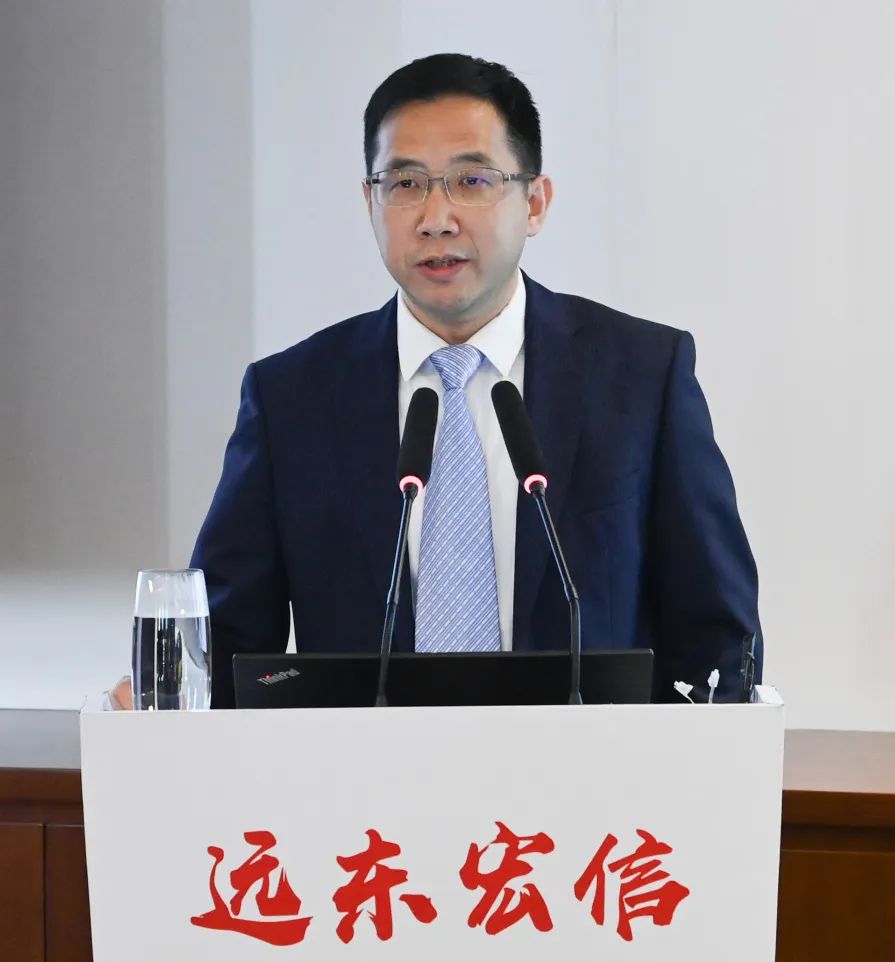 △Assistant President and General Manager of Strategy Center Xu Huibin presented the Environmental and Strategic Review Report
Cold winter shapes crack troops. In every direction and detail of future operation, we must eradicate inertia and focus on business itself. In traditional business, accelerate upgrading and build "industry-based private banking." In new business, focus on our strategic foothold and make our core breakthrough. In inclusive finance, focus on customer group characteristics, and establish an operation management system geared to the features of micro, small and medium-sized enterprises. In overseas business, pursue development in the context of a closer relationship with the world, and search for a whole-new strategic point amid future adjustments of international economic, financial and industrial landscapes. Horizon Construction Investment concentrates on pattern breakthroughs, and strives to explore and finalize a distinctive and original business model in the post-construction era. In assets business, cast the spotlight on hidden values, and tap special opportunities and resources in the non-open market. Grand Flight Investment focuses on future value, and searches for industries and enterprises of high value in the long-term trend. With focus on internal-external resonance, Team Grow gives play to the Company's advantages internally and forms a leverage with its abilities externally. In the industry direction, Horizon Construction Development lays emphasis on the financial logic and improves asset efficiency. Horizon Healthcare stresses value enhancement, delves into the vast number of counties and increases operational efficiency. Focusing on competitive products, Horizon Education explores the paths and methods of running schools with foreign investment, and turns out talent for first-class universities of the world.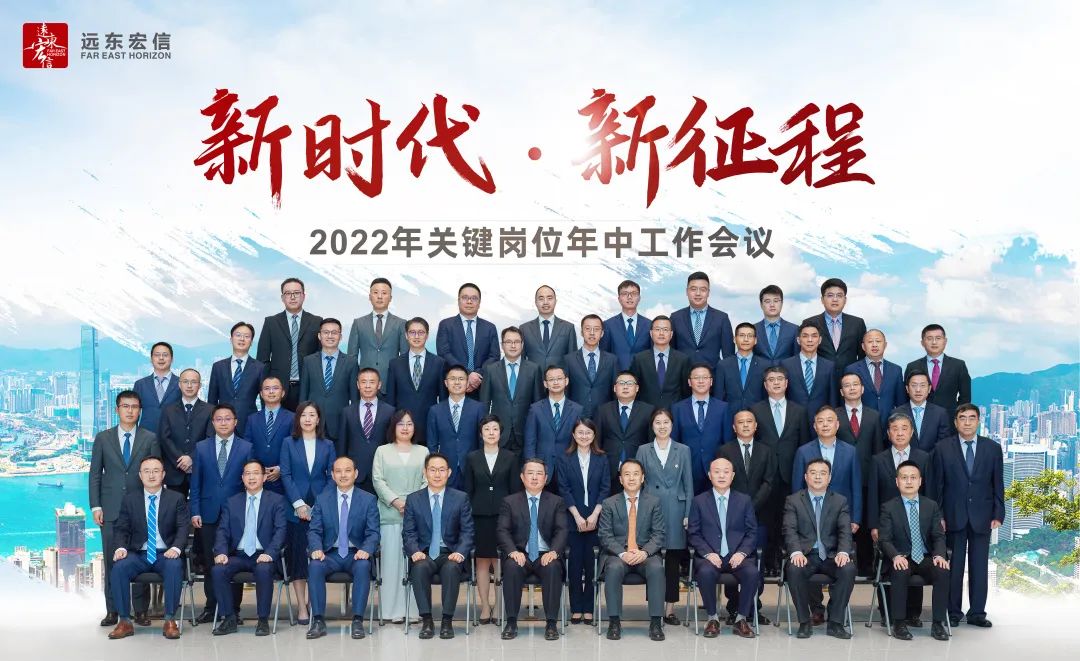 What's worth mentioning is that, as Hong Kong develops and prospers, Far East Horizon's identity as a Hong Kong-listed enterprise will become increasingly clear. The conference report pointed out: in the new stage of development, Far East Horizon will follow national strategies closely, achieve international development based on Hong Kong's status as an international financial center, and keep upgrading its system, to continuously satisfy customer demands of a greater span, more dimensions and wider areas, and actively practice the corporate mission of "integrating global resources and promoting industry development."
President Kong Fanxing

Stick to the strategy, Make continuous innovations, and Stay in alert constantly
Comply with the trend, Proceed with determination, And embark on a new journey in good spirits
In the afternoon of the same day, surrounding conference reports, Far East Horizon's leaders from Shanghai and Hong Kong reviewed key areas of work in the first half of 2022 one by one with focus on the directions they are in charge of respectively. Looking back on the results achieved earlier this year, the leaders summarized experience and analyzed gains and losses from business frontlines to functional departments. Through individual typical cases and specific issues, the leaders converted the Company's achievements into stories of colleagues that one can learn from and sympathize with. Facing the latter half of 2022, based on rational analysis and calm thinking, Far East Horizon's leaders have planned out tactics and adjusted methods targeting the features of various business types, and stated bluntly that they will eradicate action inertia, make timely adjustments according to changes in the environment, and lead the team to embark on a new journey under the guidance of the Far East spirit.

In the end, Vice Chairman, Executive Director and CEO of Far East Horizon Kong Fanxing summarized the conference with a speech.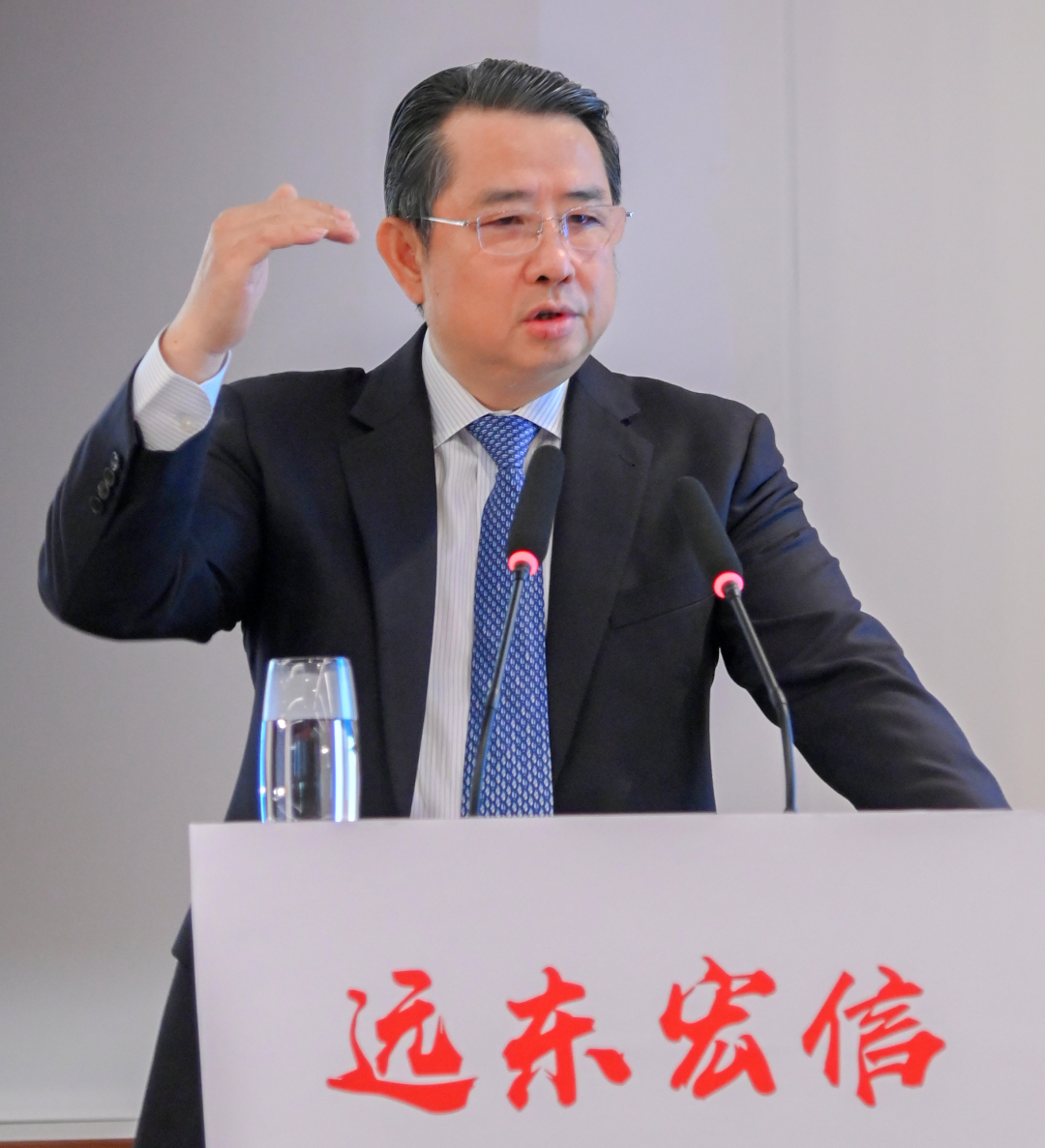 △Vice Chairman, Executive Director and CEO Kong Fanxing made a speech
"This is a very special mid-year semi-year conference since the relocation of Far East Horizon to Shanghai." President Kong spoke candidly. The unpredictable changes in external environment are projected in the ups and downs in mind, and anxiety can hardly be avoided. Nevertheless, we are pleased to see that Heaven helps those who help themselves—despite unfavorable circumstances, in the first half of this year Far East Horizon has taken its performance to a new height with its asset quality remaining stable, total provisions somewhat increased and operating profit steadily improving. President Kong said affectionately, "The ordinary people of Far East Horizon have created extraordinary achievements. I'm deeply touched!" He immediately proposed to applaud the people of Far East Horizon for their contributions and achievements.

The tides of the times billow forward, and none us are spectators. The people of Far East Horizon should constantly ask themselves: are we just lucky to achieve such performance? Do we have the matching strategic ability, management ability and professional dedication? How can we keep improving in the future? President Kong pointed out penetratingly that opportunities and challenges exist side by side; we must discover the growth logic under the new normal of economy and find a way to resonate with the environment!
1.Put operation safety first, not rapid expansion of scale

As a model-driven enterprise, Far East Horizon has always been negating itself and exploring a way to perfectly adapt itself to and resonate with the environment through over two decades of constant iteration. "We can't pin hopes on development based on high-speed growth!" President Kong pointed out that, in the years to come, we must take Far East Horizon's down-to-earth operation ability and risk management ability to extreme, adjust our management practice according to the environment and circumstances, and update ourselves continuously based on adjustments of self-positioning.
2.Stick to the established strategy and the path of differentiation innovation

Traditional business is the foundation for the Company's development, a connection point for it to reach clients, and the long-term premise for its survival. In the future, the business layout based on traditional business will remain stable, and the people of Far East Horizon should stick to the strategy and perform their duties in various directions. In terms of finance, predict risks and concentrate on operation; in the industry direction, analyze customer demands and bring Far East Horizon's resources into play. President Kong emphasized that the entire staff should continue innovations in methods and models, and maximize the Company's advantages of comparative differentiation.
3.Comply with the general trend of China and deepen "integration of global resources and globalization of operation" based on Hong Kong

"Make Far East Horizon an important window for our clients to face overseas resources!" As a Hong Kong-invested enterprise, Far East Horizon has redefined its resource organization logic at the new stage of development. According to President Kong, as the development of global economy takes on a new appearance, Far East Horizon should carry out and advance its strategy of "integration of global resources and globalization of operation" on multiple levels, promote different types of business little by little, pay special attention to the challenges brought by environmental changes, and strive for another upgrade of the Company's business model.
4.Urge managerial staff to be responsible for their positions and stay in alert

Under the current environment, management work should be constantly reinforced, and the premise for good management is to urge and require the managerial staff to fully perform their duties and resolutely put an end to inactions, dispersions of goals and ineffective systems. President Kong requires that all managers cherish their reputation as birds cherish their feathers, regard work with reverence, stay in alert constantly, maintain a sense of urgency and a high degree of concentration, and spare no effort on the platform of Far East Horizon.
5.Promote rational thinking, shape independent personality, and work hard to improve cognition

All employees share the obligation for the rise and fall of the Company. Facing the people of Far East Horizon of one mind, President Kong said straightforward: "I've always thought that the fact that we can work side by side and advance together proves that we are all uncalculating and sentimental people brought together by fate." The Company is willing to create an open, fair and just workplace environment, as Far East Horizon is a platform carrying the value of life as well as a stage for us to strive for a shared goal.
When the seas are in turmoil, heroes are on their mettle. Standing at the starting line of a new race, President Kong expressed with determination that the ups and downs in the environment are normal, and what Far East Horizon needs now is to find the resonation pace amid fluctuations, and stick to the existing strategy unswervingly. The correctness of Far East Horizon's strategy has long ago been clearly proven in practice, and strategically speaking, the vitality of Far East Horizon has no ends!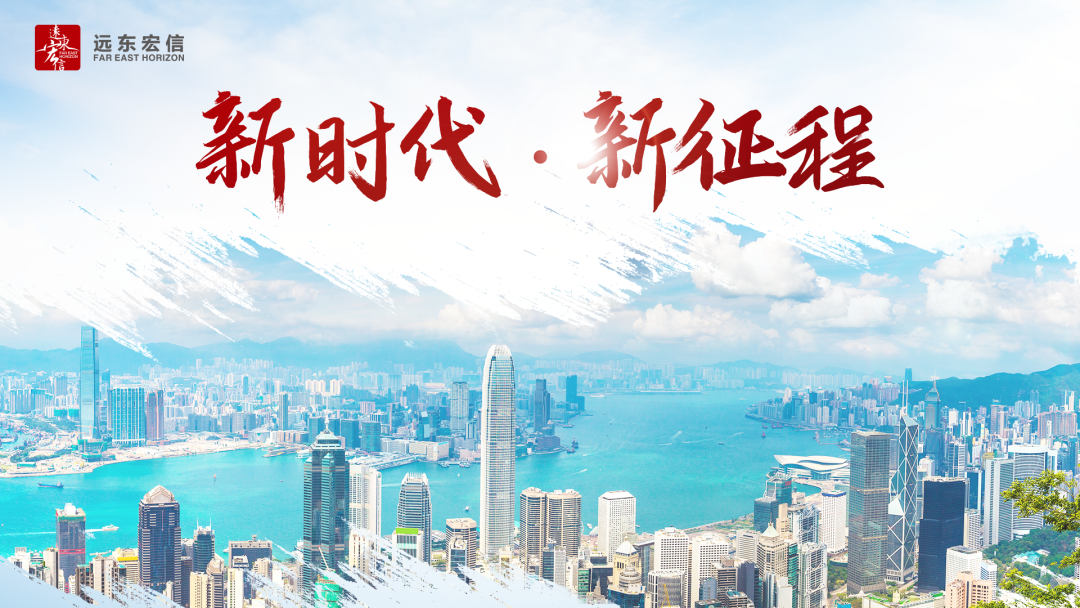 Long and difficult as the journey may be, sustained actions will take us to the destination. There is no need for us to hesitate, doubt or be dispirited. "There is only one kind of heroism in the world, which is to still love life after seeing clearly the truth." In the end, President Kong called on the people of Far East Horizon to brace their energies and face up to the challenges, do their best on their respective posts, and make concerted efforts side by side along the journey.