Seizing the New Opportunity of the Greater Bay Area: President Kong Fanxing's Employee Research Trips to Guangzhou and Shenzhen
It has been 3 years since the official release of the Outline Development Plan for the Guangdong-Hong Kong-Macao Greater Bay Area, and this area has become one of the regions in China with the greatest comprehensive strength, the highest degree of opening and the most vibrant economy. By 2021, the economic aggregate of the Guangdong-Hong Kong-Macao Greater Bay Area has exceeded 12 trillion yuan, with 5 cities of trillion-level GDP, more than 2500 listed companies, 25 Global Fortune 500 companies, etc.

Headquartered in Hong Kong, Far East Horizon has established a service network of diversified business types and multiple layers at the Guangdong-Hong Kong-Macao Greater Bay Area, so as to give play to its advantages to accelerate its integration into the big picture of China's development, actively attract and absorb worldwide high-end factorial resources, and better serve the modern industrial system and quality cities of the Greater Bay Area. For the company, it is a new opportunity at the development stage of "integration of global resources and globalization of operation."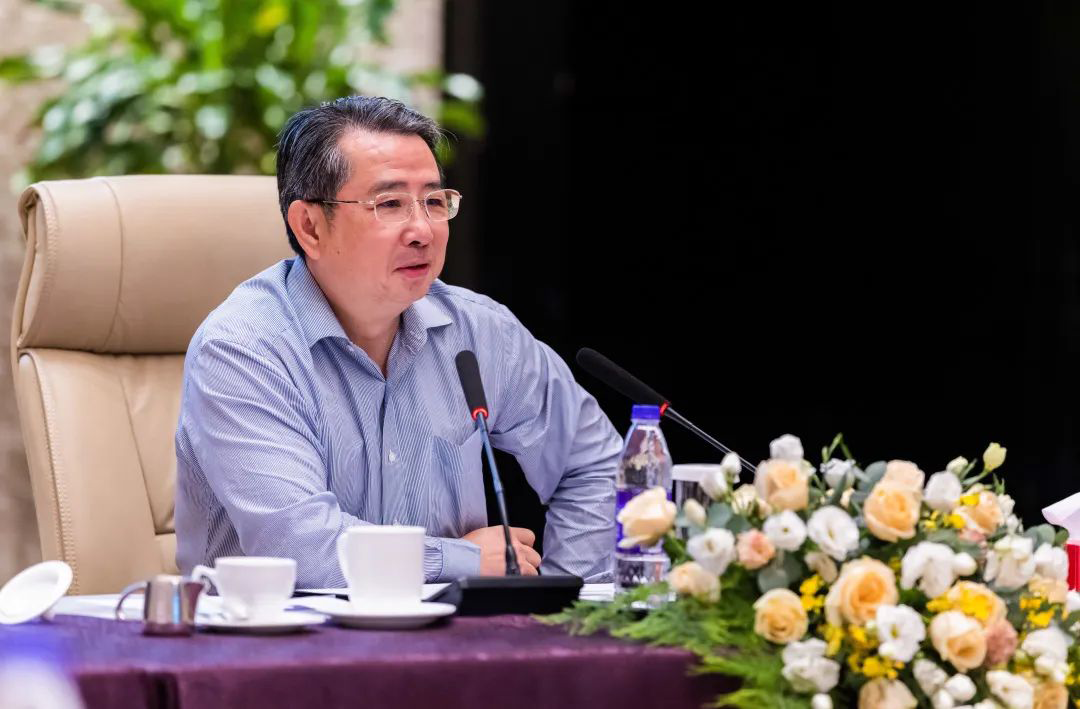 △ President Kong Fanxing speaking at the research symposium
From August 15-19, Vice Chairman, Executive Director and CEO of Far East Horizon Kong Fanxing, etc. went to Guangzhou and Shenzhen for research and symposiums to communicate with colleagues of local offices. This is the first time this year that President Kong carried out a mainland employee research. To listen extensively to employees, a total of 6 symposiums were carried out, including 2 special symposiums on inclusive finance business.

During the research trip, President Kong Fanxing was accompanied by Assistant President and General Manager Xu Huibin of Strategy Center, General Manager Wei Yangang of Inclusive Finance Department, Deputy General Manager Dai Yong of Operation Center, Co-General Manager Yang Yongjun and Li Wei of Asset Center, General Manager Shen Liwei of Capital Center, General Manager Li Feng of Finance Center, General Manager Zhang Yan of General Manager, etc.
△President Kong Fanxing discussing with employees of the Guangzhou Office

Utilize Advantages of Hong Kong Headquarters and Open up Long-term Strategic Space

What's the new meaning of Far East Horizon's identity as a Hong Kong-invested enterprise? What kind of inspiration and guidance does it provide for the future development of the company? These are the questions of general concern asked by employees during this trip. President Kong pointed out that, as a Hong Kong-listed company backed by the mainland and headquartered in Hong Kong with influence extended to reach Southeast Asia, Far East Horizon is developing towards "integration of global resources and globalization of operation."
Looking back, Far East Horizon's development course of more than 20 years since its relocation to Shanghai is a process of resonance at the same frequency as the hotspots of China's economic development. At the Bohai Rim Economic Circle and the Yangtze River Delta Economic Circle, the company has set up a business operation center in Tianjing and a business operation center in Shanghai respectively. Undoubtedly, Far East Horizon's next strategy targets the south, which includes the Greater Bay Area as well as Southeast Asia.

As for the future, the external environment suggests that the hotspots of the next round of global economic growth are located in Southeast Asia, and Far East Horizon will grasp this trend; as China embarks upon a new stage of economic development, Far East Horizon needs to upgrade itself to maintain its participation in the domestic economy and turn the inland into its major strategic rear. From the perspective of the company itself, Far East Horizon has entered a new period of more diversified asset, income and business structure.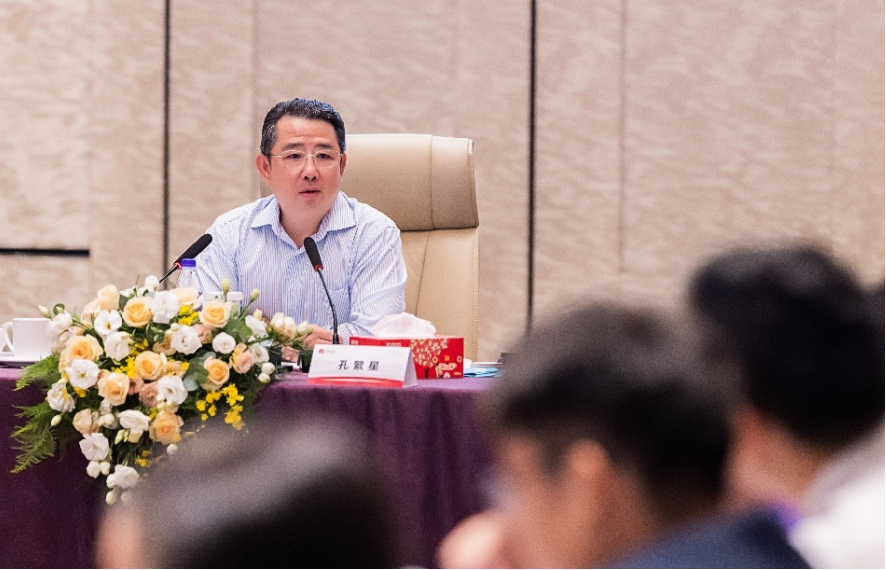 △President Kong Fanxing speaking at the research symposium
According to President Kong, the Guangdong-Hong Kong-Macao Greater Bay Area is China's land of promise as well as its gateway to the economic hotspots of Southeast Asia. It is necessary to utilize the advantages of Far East Horizon's Hong Kong headquarters and form a situation of cooperation and mutual coordination between Hong Kong and Guangdong, so as to better serve the national strategy of developing the Greater Bay Area and opening up wider strategic space in the long term for the company's next round of development.

Thus, the new goal of the construction of its Hong Kong headquarters is to turn itself into a Hong Kong-based liaison office for domestic and international clients. Through Far East Horizon, mainland clients can reach out to the world while overseas clients can explore into the mainland. By taking full advantage of the domestic-overseas linkage system, it can take the company's service ability to the next level.

At symposiums, President Kong encouraged employees to make bold innovations, achieve bigger increment and make perfection still more perfect. Employees can apply for innovation projects any time, and the company will conduct special researches with matching incentive mechanisms.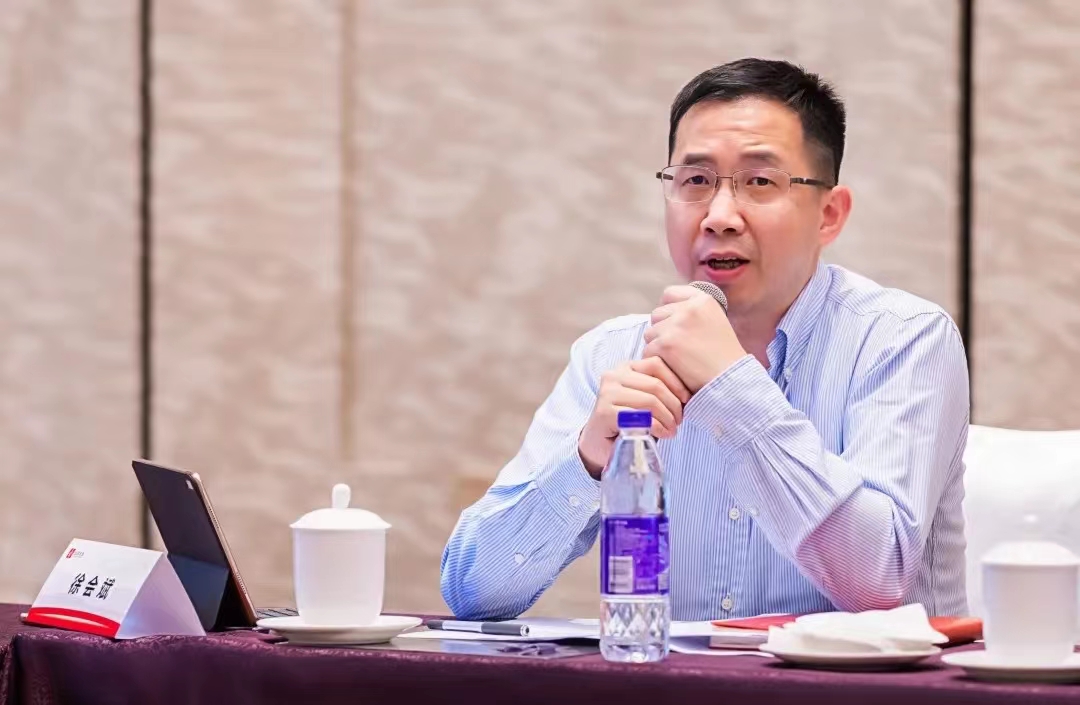 △ Assistant President Xu Huibin speaking at the research symposium
Maintain Strategic Focus and Seek Long-term Pressure

Some employees pointed out at symposiums that quite a few enterprises are right now under great pressure. How should Far East Horizon cope with changes in the environment? President Kong answered, facing the current environment, we should "first put ourselves beyond the possibility of defeat, and then wait for an opportunity of defeating the enemy." In other words, we should stay focused on ourselves, as the environment keeps changing. There is no way to decide, let alone escaping; the only thing we can change is ourselves. Just maintain our strategic focus and continue to perfect our coexistence with the environment.

President Kong pointed out that the greatest feature of Far East Horizon is its strategy-guided operation. For over 20 years since its relocation to Shanghai, the company has always scrupulously abided by its original aspiration of serving real economy while pursuing and maintaining steady and sustainable development. The ups and downs of economic cycles have proved the correctness and effectiveness of the Company's strategy that is determined through long-term thinking and careful decision-making.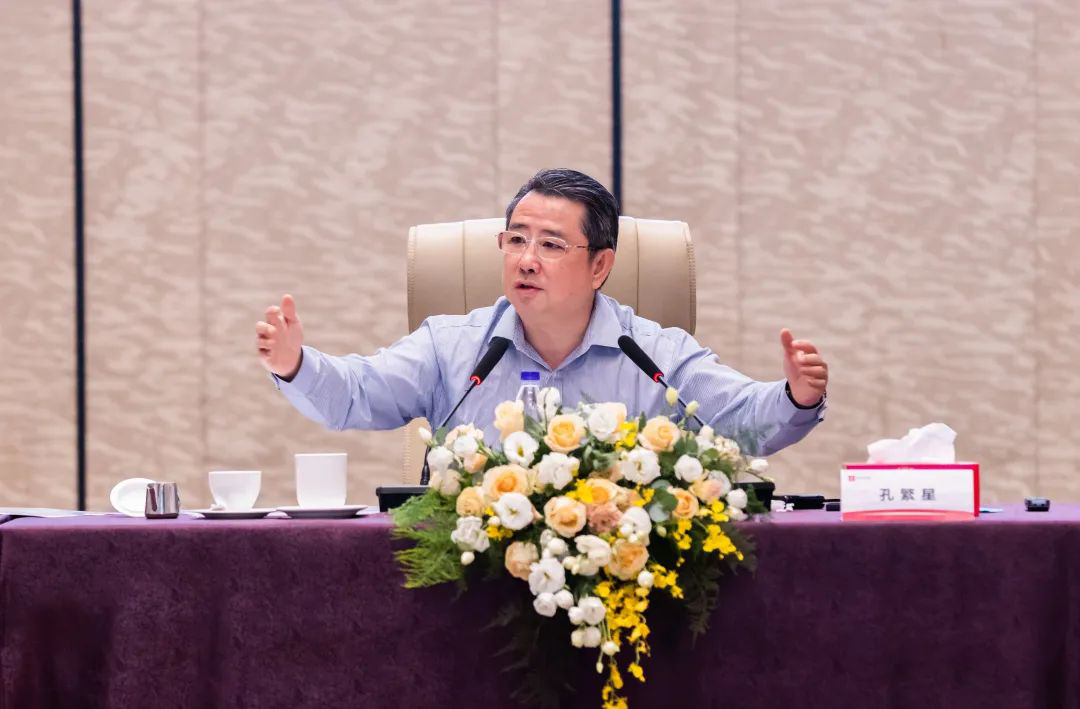 △President Kong Fanxing speaking at the research symposium
"We do not play bets on national policies nor harass the people. The company hasn't made any quick money when the economy was advancing by leaps and bounds. It has never engaged in any 2C business and frowned-upon business including P2P, deceptive loan and campus loan. The force of the wind tests the strength of the grass, and time reveals a person's heart. The reason that Far East Horizon has survived is that it is able to resist the temptation of immediate profit and unflinchingly engage in business that conforms to the laws of economics and meets the ultimate requirements of the market. Precisely in the face of challenges of economic downturn, it is such calmness and pursuit of long-term value that makes Far East Horizon stand out from the rest.

President Kong emphasized that the real purpose of Far East Horizon is to help clients to improve their own abilities, including but not limited to equipment upgrade, technological progress, market expansion and overseas operation. "While serving the development of corporate clients, objectively it also helps to develop China's economy and consolidate industrial technology. This is an undertaking that brings profit to the nation and the people and will benefit future generations."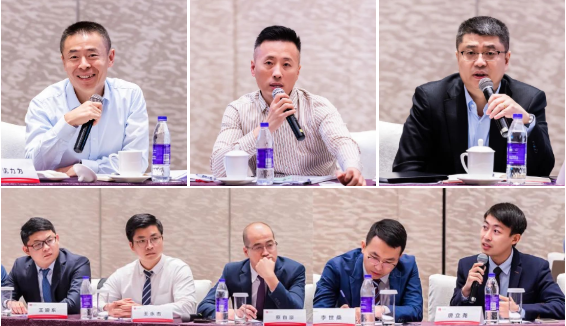 On Inclusive Finance: Become the Benchmark of China's Inclusive Finance Industry

Since its establishment, the Inclusive Finance Department has gradually expanded into a team of around eight hundred people with service area gradually being extended to cover the entire nation. The number of clients served by the Inclusive Finance Department and the size of its assets keep increasing, as its financial contribution to the company continues to grow. President Kong believes that judging from the first stage, the development of inclusive business is getting better.

At the symposium, President Kong had in-depth exchanges with employees regarding topics such as the future development of inclusive finance and the market differentiation of inclusive finance and medium- and large-scale business. He pointed out that, as the capillaries of social economy, medium- and large-sized enterprises are characterized by large proportion, great quantity and strong vitality; thus, inclusive finance business still has plenty of room for development in the future.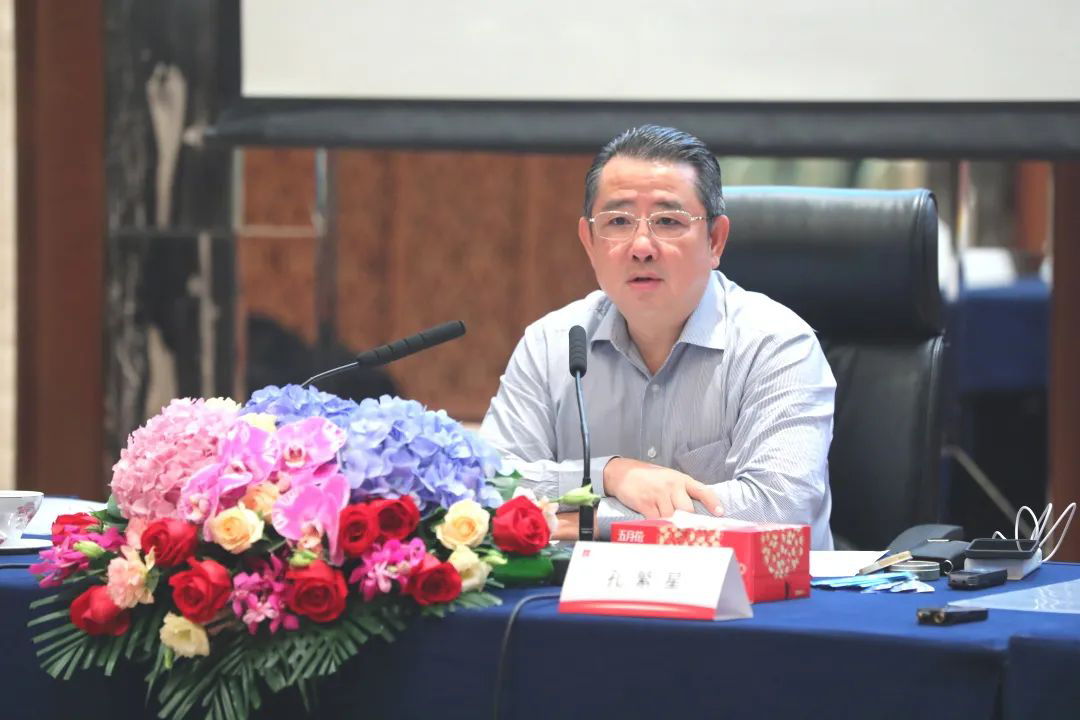 △ President Kong Fanxing at the Guangzhou research symposium
How to grow bigger and stronger while becoming more specialized and perfected is the new task for inclusive finance business at the next stage. We must further optimize our business model, operation system and financial logic, use information and Internet technologies to improve per capita efficiency, serve more clients and create more value, so as to help employees to realize great value of their own.

President Kong emphasized that inclusive finance business carries an extremely important strategic task of Far East Horizon. With the company's development in the next 10-20 years or an even longer period considered, it is pointless to follow a transient trend, let alone rushing around blindly; we must make timely adjustments and watch carefully as we march along, so as to ultimately find out a safe and effective way of operation. For employees engaged in inclusive finance of the two offices, President Kong said affectively, "I hope our team is the benchmark for China's inclusive finance industry."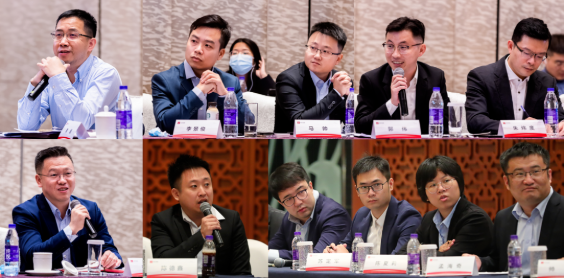 △Special research symposiums on inclusive finance business in Guangzhou and Shenzhen
On Human Resources: Create a Marketed-oriented Fair, Just and Open Platform
For individuals, the ultimate question is what kind of platform should one entrusts his/her career life to. At symposiums, President Kong carried out in-depth exchanges with employees from different offices.
The human resources system of Far East Horizon is market-oriented; only a market-oriented one can activate and stimulate each and every asset element and management element. Far East Horizon advocates rationality and big love. What is big love? A well-defined strategy, a perfect mechanism, and a fair, just and open platform. It was pointed out by President Kong that every team of Far East Horizon should be simple, concise, clear and pure, so that employees can work to their full capacity, push their limits, and pursue the acme of success in their life.

Earlier this year, Shanghai was put under lockdown for nearly three months. During this period, many office buildings were completely empty, forming a sharp contrast with the Far East Horizon Plaza brightly lit up at night. Rather than coming to a halt, Far East Horizon's business demonstrated an upward trend against the current. President Kong said, "This fully reveals the remarkable anti-pressure ability of the company, the flexibility of its operation as well as the mindset of the people of Far East Horizon. I hope this platform can gather a group of more excellent or the most outstanding talent, including those at the peak of their life. An enterprise consisting of those people is invincible."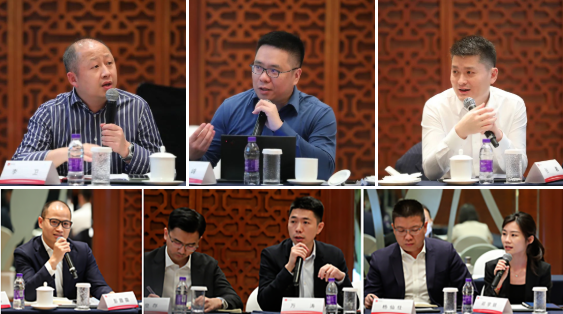 The future is promising if we keep marching on. President Kong pointed out that, after the adjustments in recent years, under the joint efforts of the entire company, its internal operation system is basically normal, and its risk control system and asset management system are basically effective. I the future, the people of Far East Horizon must keep up their efforts, beware of any changes in the external environment, adjust their mindset, cast all illusions, and prepare themselves for a long and hard fight.

President Kong encourages employees to grasp the historic opportunity of developing the Guangdong-Hong Kong-Macao Greater Bay Area, give full play to the competitive advantages of differentiated services, maintain a good stage, ride on the momentum, and create even greater success.
△President Kong Fanxing at the symposium with employees of the Shenzhen office