Media Center
Industry-First "Pearl Bonds"—Far East Horizon's Debut in the FTZ Bond Market
Recently, International Far Eastern Leasing Co., Ltd.—Far East Horizon's core subsidiary in finance—successfully issued the first FTZ offshore bonds ("pearl bonds") of the financial leasing industry with a term of 3 years and a size of RMB 600 million, listed on the Macao Financial Assets Exchange. During the same period, the Company was for the first time rated "Ag-" by the international rating agency China Chengxin (Asia Pacific) Credit Ratings Company Limited with a stable rating outlook, which makes it the first among its peers to receive "Ag-" rating from an overseas Chinese rating agency with international influence.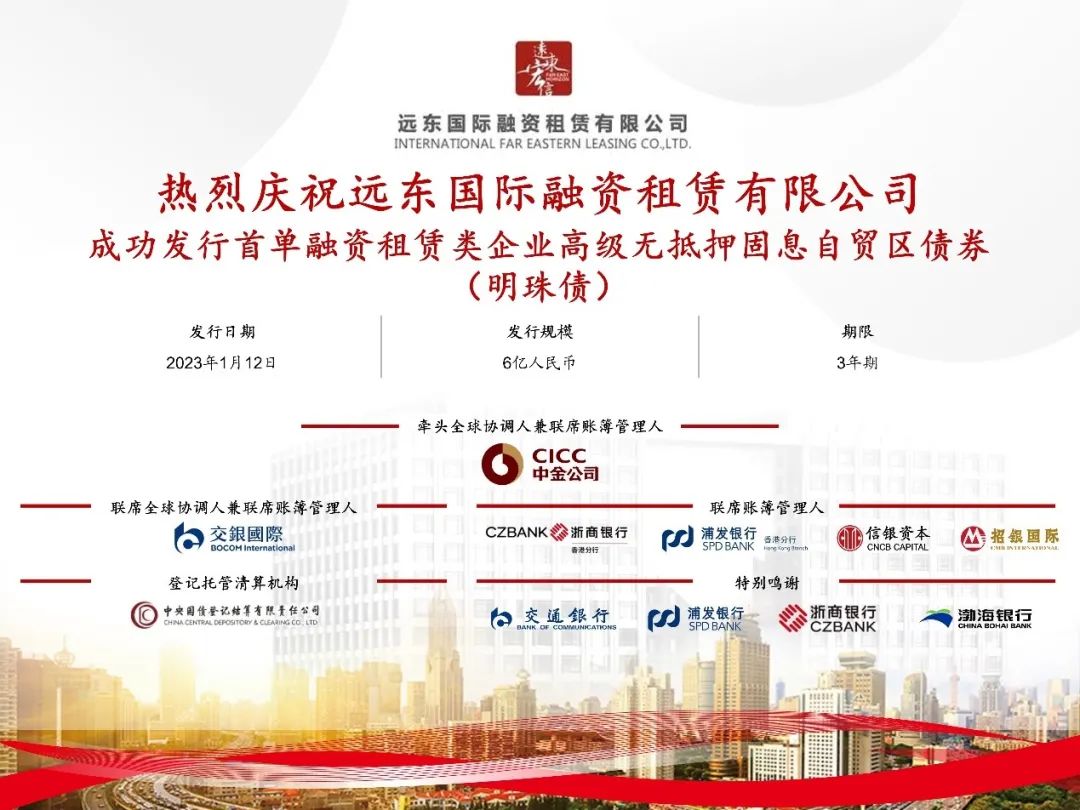 At the new development stage of "globalization of resources and globalization of operation," Far East Horizon has taken yet another innovative step towards the internationalization of rating system and RMB internationalization with real actions. In the future, it will continue to adhere to the mission of "integrating global resources and promoting industry development," persist in market-oriented development, carry out renewal, innovation and self-iteration, and remain committed to continuously creating value for various parties.
China Chengxin (Asia Pacific) Credit Ratings Company Limited ("CCXI"): CCXI is the first Chinese credit rating agency holding a license in Hong Kong. It provides credit rating services to domestic and overseas enterprises and institutions issuing offshore bonds in Hong Kong, Asia Pacific and the European Union.
FTZ offshore bonds ("pearl bonds"): In order to implement the strategic deployment of Pudong, Shanghai to construct an offshore financial system and based on the open development policy of the Pilot Free Trade Zone, pearl bonds are issued as an innovative type of offshore bonds targeting the FTZ and sold to domestic and overseas investors to promote the development of real economy, with registration, trusteeship and liquidation service support provided by China Central Depository & Clearing Co., Ltd.
Scan and Follow
Far East Horizon WeChat