Media Center
Far East Horizon and ADB Together Raising Foreign Capital to Improve Healthcare in Rural China
As a listed Hong Kong-invested company, Far East Horizon has been actively exploiting its advantages in the international capital market to attract overseas funds and contributing to the development of mainland China. Recently, the Asian Development Bank (ADB) has provided Far East Horizon with a financing scheme of 145 million US dollars as bookrunning mandated lead arranger, and the funds will be devoted to providing equipment financing leasing for public hospitals in China and improving medical services in rural and remote areas.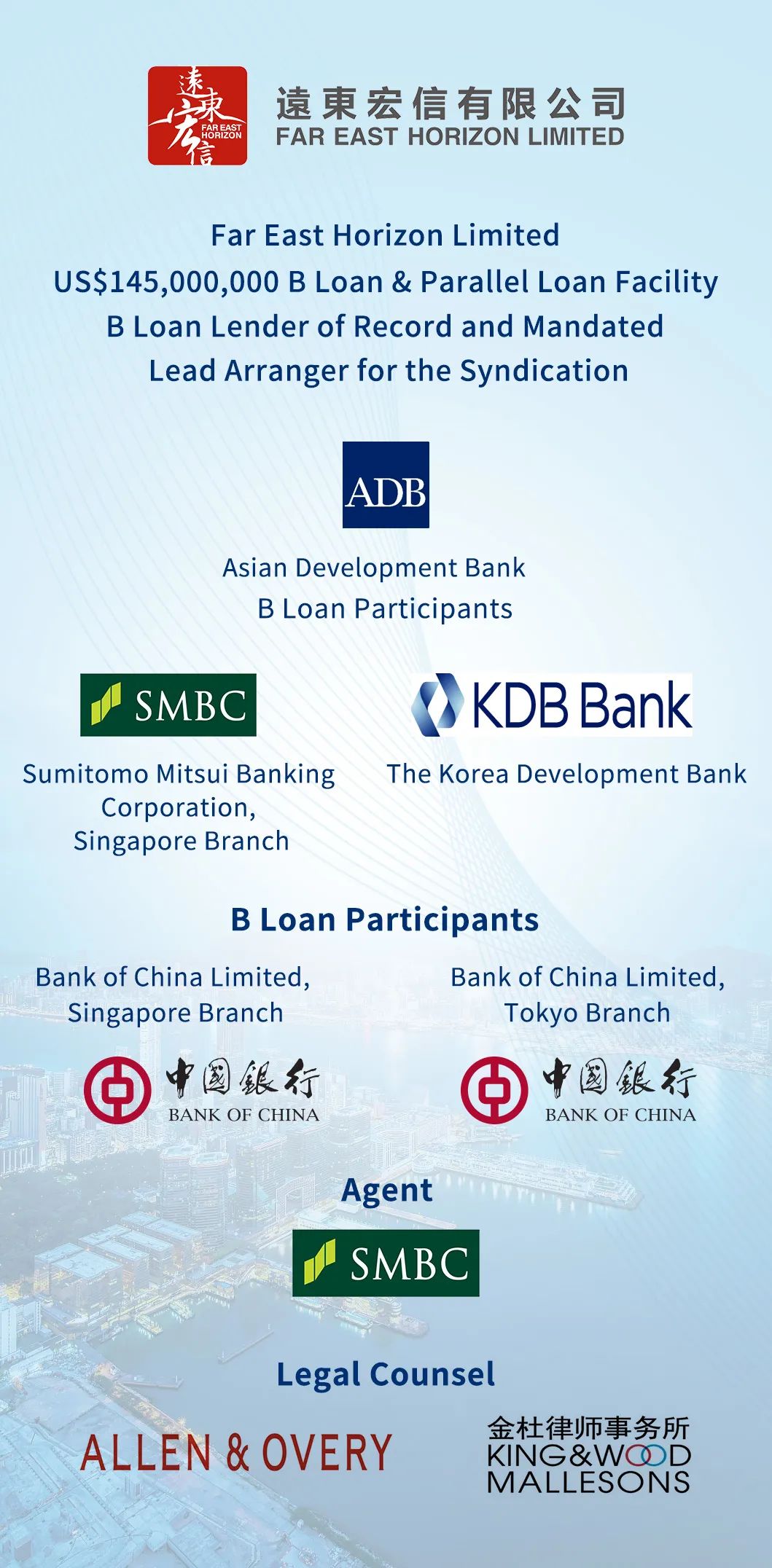 This financing scheme includes the ADB's $85 million B co-financing deal with the SMBC Singapore Branch and the Korea Development Bank, as well as $60 million of parallel loans from the Bank of China's Singapore Branch and Tokyo Branch.
Far East Horizon's CFO Mr. Wang Mingzhe said: "We are extremely honored and grateful that under the ADB's support and coordination, we succeeded in raising B co-financing and parallel loans in the international market, which demonstrates the attraction of Far East Horizon in the international capital market. With the funds raised, Far East Horizon will provide equipment leasing, update medical equipment and improve diagnosis and treatment for more hospitals in underdeveloped areas. This can not only alleviate the pressure faced by medical institutions in the short term, but also contribute to the long-term development of China's medical resources."
"To make up for the financing gap of hospitals caused by the global pandemic of COVID-19, ADB and Far East Horizon have begun cooperation three years ago. We realized the importance of constructing a medical and health service system with tenacity, and public hospitals are always at the frontline in providing high-quality medical and health services." According to Suzanne Gaboury, Director General of the ADB's Private Sector Division, "The partnership between ADB and Far East Horizon is beyond finance. We go forward hand in hand, jointly committed to providing modern medical and health services to the people most in need, especially in rural hospitals and surrounding regions."
Established in 1966, the Asian Development Bank has 68 members and is committed to constructing a prosperous, inclusive, tenacious and sustainable Asia Pacific region, meanwhile continuously striving to eliminate extreme poverty. For over a decade, Far East Horizon and the Asian Development Bank have carried out in-depth cooperation in multiple fields including clean energy, public medical services and protection of women's rights, with the cumulative amount of cooperation approaching $500 million. In May 2022, Far East Horizon won the ADB's first Rural Pandemic Response Award for its outstanding achievements in supporting epidemic prevention and control and improving medical services in rural China over the years.
In the future, guided by the strategy of "Backed by Mainland, Based in Hong Kong, Influencing Southeast Asia," Far East Horizon will give full play to its role as bridge and bond in integrating operations at home and abroad, introduce capital and advanced technologies with a global perspective, and do its best to promote China's socio-economic development of high quality.
Scan and Follow
Far East Horizon WeChat