Media Center
1.33 Billion Yuan! Far East Horizon Completed Its First Sustainability-linked Syndicated Loan
On December 22, 2022, the International Far Eastern Leasing Co., Ltd. under Far East Horizon successfully completed the Company's first sustainability-linked syndicated loan ("syndicated loan"), which is jointly issued by 9 foreign banks with a signing scale of RMB 1.33 billion and a term of 3 years. As a financing tool to stimulate the borrower to achieve the preset Sustainability Performance Target (SPT) with syndicated loan terms, sustainability-linked syndicated loan is one of the major financial measures to promote sustainable development.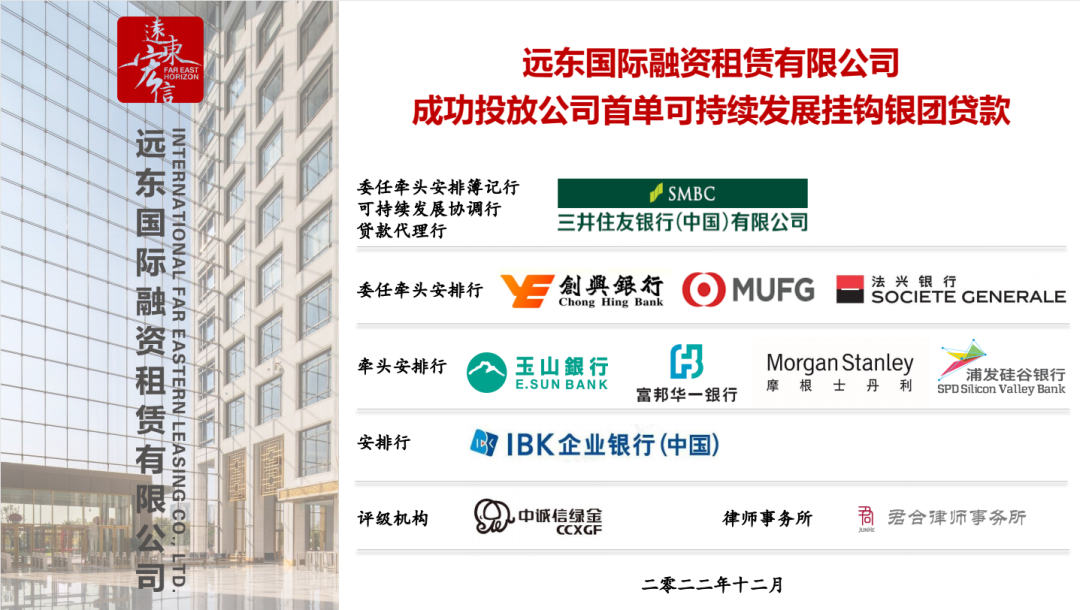 In this syndicated loan, Sumitomo Mitsui Banking Corporation (China) Limited serves as sustainability coordinator, bookrunning mandated lead arranger and facility agent, Chong Hing Bank Limited Shanghai Branch, MUFG Bank (China) Ltd. and Societe Generale (China) Limited Beijing Branch serve as mandated lead arranger, E. Sun Bank (China) Co., Ltd., Fubon Bank Limited, Morgan Stanley Bank International (China) Limited Beijing Branch and SPD Silicon Valley Bank Co., Ltd. serve as lead arranger, and Industrial Bank of Korea (China) Limited Qingdao Chengyang Sub-branch serves as arranger.
Far East Horizon integrates the idea of sustainable development into its development strategy, and actively explores an innovative path for the green and low-carbon development of financial services. The successful issuance of this sustainability-linked syndicated loan is yet another breakthrough achieved by the Company in this field following green asset-backed securities, sustainable development bonds and green club loan. As the largest 3-year foreign-funded syndicated loan in China over the years, it reflects the Company's multi-channel and diversified financing advantages, and proves its ability and determination to practice the national goal of "carbon peaking" and "carbon neutrality."
In the future, Far East Horizon will stick to the core responsibility idea of "creating shared value and promoting harmonious development" as always, and spares no effort in enhancing the impetus for the green development of real economy while meeting the financing needs of enterprises. Devoted to promoting the sustainable development of the society as a whole with "finance + industry," it will forge ahead towards the goal of excellence.
Scan and Follow
Far East Horizon WeChat