Media Center
Far East Horizon's Contribution to Healthy China and Accomplishments across China
This year, Horizon Healthcare, the big health industry platform of Far East Horizon, announced its new mission— "good medical services within everyone's reach," which is an in-depth implementation of the "healthy China" strategy. Today, let's see the social medical accomplishments of Far East Horizon across China.

"Landmark" of Nayong County Extricated from Poverty

Nayong, a place name of distinct ethnic minority characteristics, is located at the south of Bijie City, Guizhou Province. When it comes to Nayong, the first thing that springs to the mind of local people is the saying that goes like this: "Na (Nayong) Wei (Weining) He (Hezhang), not the place to stay." Nayong used to be a national-level extremely poverty-stricken county, with 22 poverty-stricken towns, 245 poverty-stricken villages, a poverty-stricken population of over 250,000, and a poverty rate of 23.17%.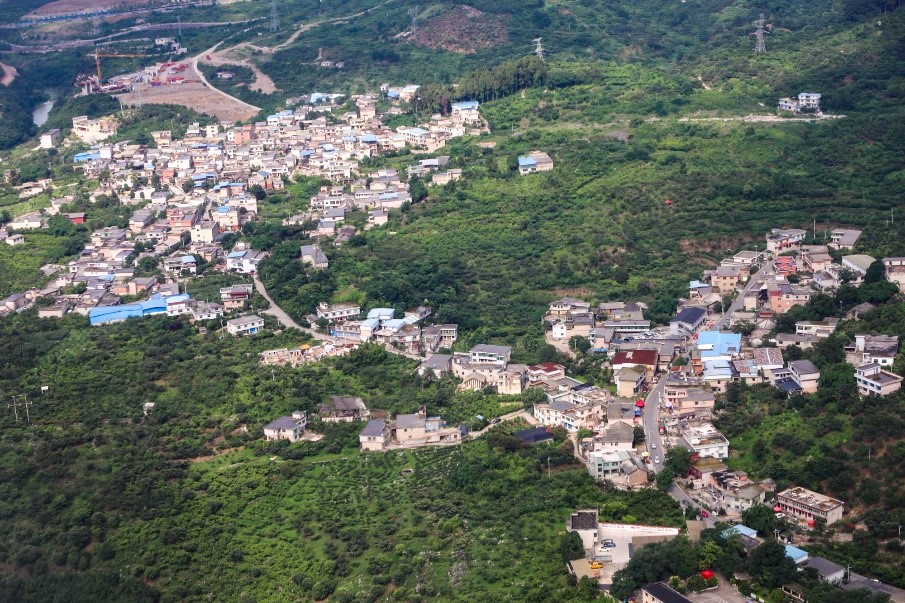 "One ill, the whole family poor." The health program for poverty alleviation has always been an important item on the agenda for eliminating extreme poverty. Many people in financial difficulties have been trapped in or returned to poverty because of illness. Therefore, joint efforts have been made in every aspect to prevent illness from becoming the root cause of poverty.

As the first privately operated Level 2 Grade A hospital in Guizhou Province, Nayong Xinli Hospital has joined the big family of Horizon Healthcare since 2016. Not daunted by the impoverished environment and urgent needs of Nayong, Far East Horizon has further enhanced the preferential allocation of resources to extremely poverty-stricken regions, and strengthened hospital capacity building and coordinated support. In 2017, the Company began to help the hospital with the construction of its brand-new inpatient building. In 2018, supported by the professional resources of Horizon Healthcare, Nayong Xinli Hospital became the first local hospital with access to the center for remote pathological diagnosis, and improved its pathological diagnostic capability to a domestic advanced level. In 2019, with the acceleration of discipline construction, Nayong Xinli Hospital became one of the first batch of hospitals in China to cooperate with the "urinary clinical research collaboration network of Peking University." In 2021, the Hospital gained access to the remote imaging diagnosis network and perfected the construction of its remote diagnosis system, thereby breaking through geographical barriers by bringing people in remote regions face to face with experts in China's big cities.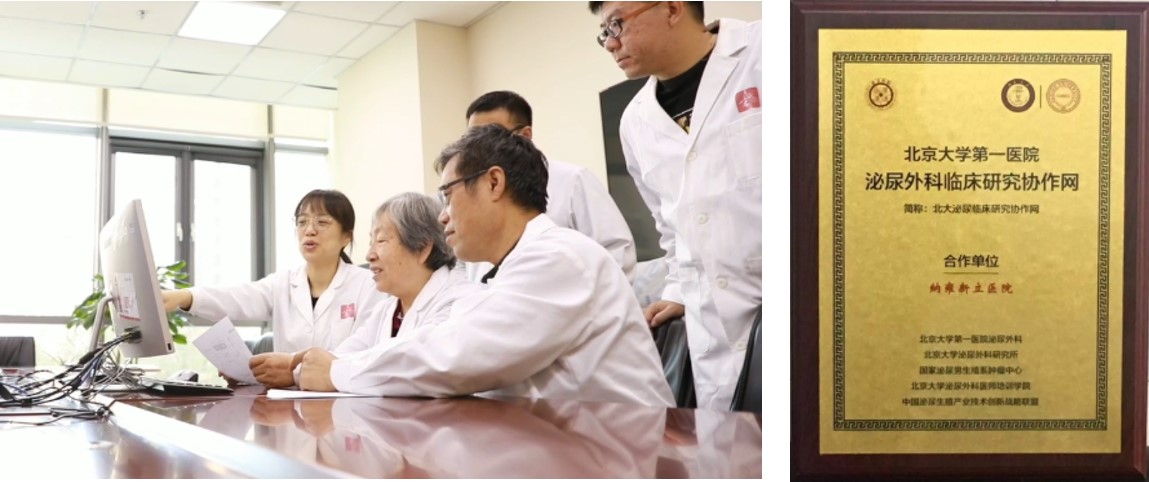 Left: domestic experts performing remote pathological diagnosis
Right: plate of cooperating hospital of "urinary clinical research collaboration network of Peking University"

In November 2021—one year after Nayong County's removal from the list of poverty-stricken countries, the brand-new inpatient complex building of Nayong Xinli Hospital was officially put into use. This 100m tall 27-storey building rising abruptly out of the ground became the landmark building as well as the tallest hospital building in Nayong. At its top is the first and only medical helipad of the county.
Old building of Nayong Xinli Hospital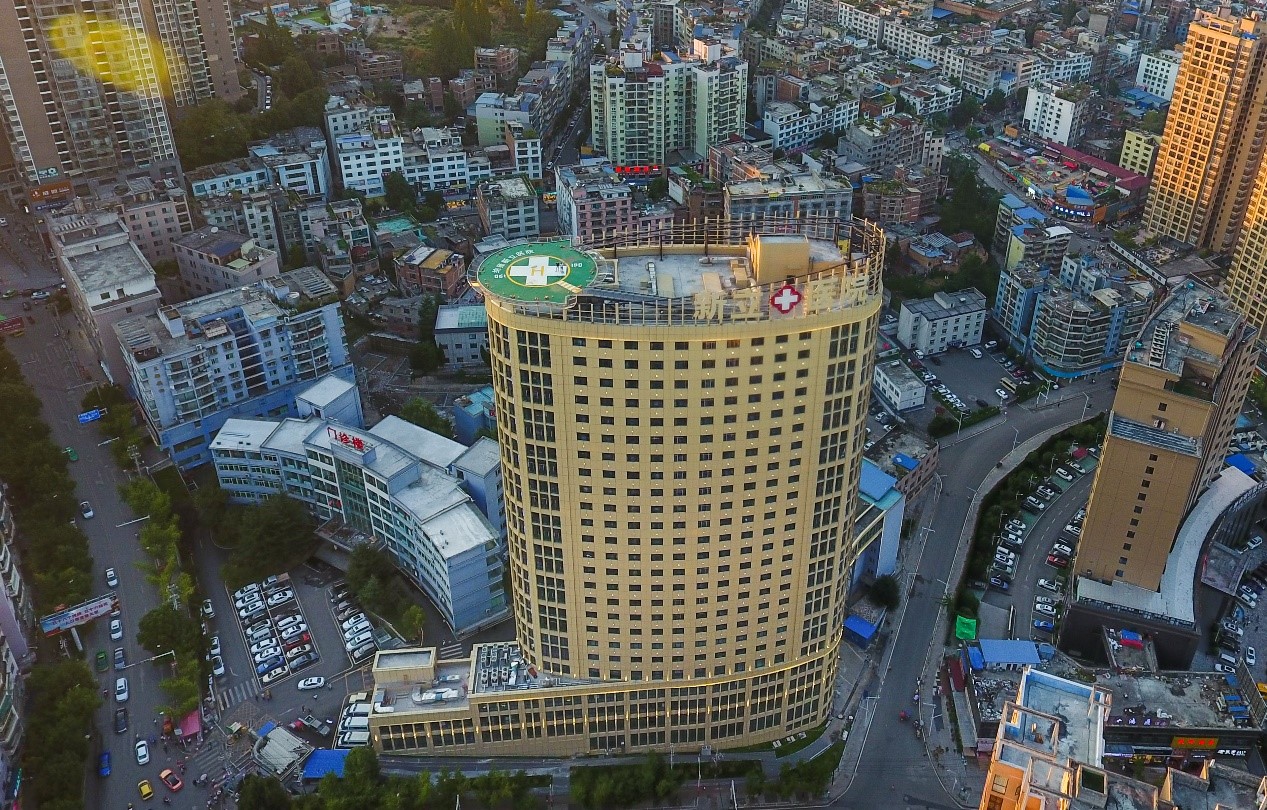 New building of Nayong Xinli Hospital

With the new building put into use, Nayong Xinli Hospital now has 960 beds in total, and is planning to establish new clinical departments including anorectal surgery, cardiology (including catheterization room), hand and foot surgery (microsurgery) and neurosurgery, construct a gastrointestinal endoscopy center, and expand the scale of hemodialysis. In addition to treating common diseases, frequently encountered diseases and some stubborn and critical diseases, the Hospital also takes the lead to carry out surgeries such as joint replacement, cholecystectomy and laparoscopic hysterectomy in the county, which will greatly enhance the medical service ability and medical care capacity of the Hospital. Nowadays, its departments including urinary surgery, gastroenterology, orthopedics and cardiovascular medicine and intensive care unit have gained widespread recognition in Nayong, and the Hospital is frequently invited to municipal academic lectures and surgical demonstrations.

With ambition, anything is achievable; where there's a will, there's a way. In five years, Horizon Healthcare has established a "landmark" for Nayong—not just in terms of building height, but also because of the increase in hospital capacity and medical techniques, and more importantly higher accessibility of medical services to the local people. The name "Nayong" is short for "naming" and "yongxi," and "yongxi" means harmonious, happy and peaceful. We believe the renovated Nayong Xinli Hospital will bring better health services and greater joy to the local people.
The Fifth Hospital of Deyang—Old-brand Hospital Taking on a New Look

People often say, "It takes ten years to grow trees and a hundred years to cultivate talent." Then, how long will it take to establish a hospital brand with good regulation? The Fifth Hospital of Deyang, also a member of Horizon Healthcare since 2016, has over 60 years of history and plays the role of leader among the Company's hospitals in Sichuan. Established in 1958, it is a Level 2 Grade A general hospital with strong specific diagnosis & treatment ability and comprehensive medical care capacity, with 5 key medical specialties of Deyang City including general surgery, orthopedics, endocrinology, obstetrics-gynecology and laboratory medicine, and a total staff of over 700 people. The Fifth Hospital of Deyang has maintained good relations with hospitals and universities such as West China Hospital of Sichuan University, Sichuan Provincial People's Hospital and Chengdu University of TCM, and often invites famous domestic and international experts here to perform diagnosis & treatment and provide academic guidance.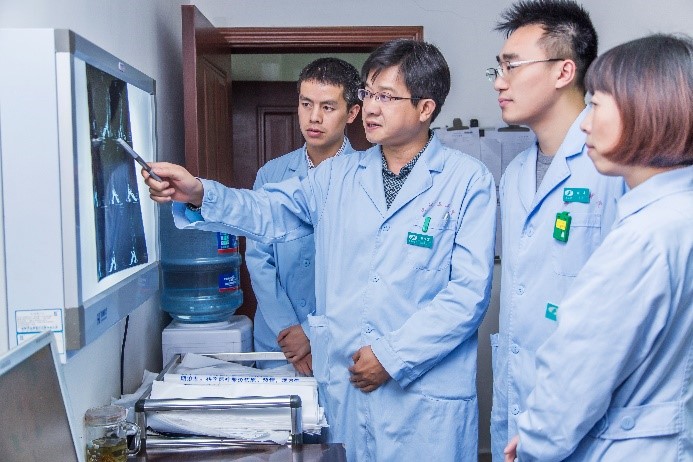 Constantly striving for perfection and practicing devotedly, The Fifth Hospital of Deyang began the construction of its Zhongjiang Division following the standard for Level 3 general hospital in 2017. Meanwhile, Horizon Healthcare introduced advanced management standard and quality resources to this old-brand hospital, and continued to promote the improvement of its expertise level and service quality. In 2018, the Hospital successfully passed the certification of Germany Rhine TUV-SQS medical service quality management system as the first certified hospital in Deyang City.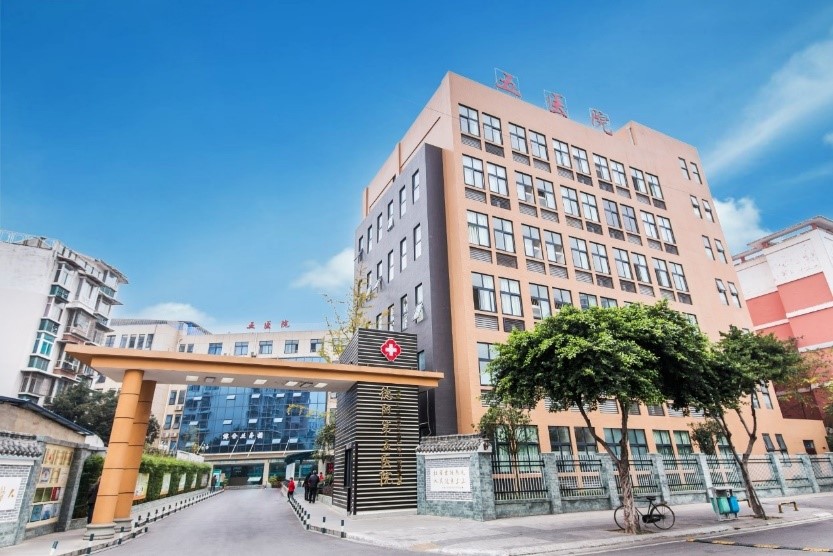 The Fifth Hospital of Deyang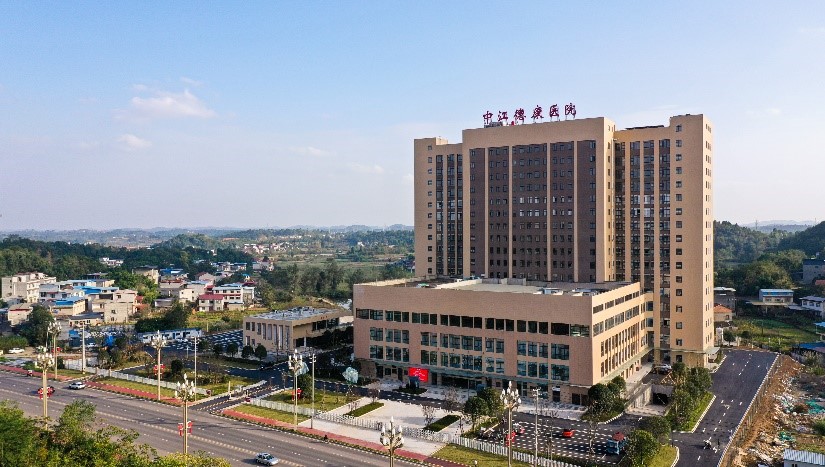 Zhongjiang Division of The Fifth Hospital of Deyang

As a time-horned hospital, The Fifth Hospital of Deyang has regained youth with its brand-new division. After four years of preparation, in December 2021, the Zhongjiang Division (Phase I) of The Fifth Hospital of Deyang officially opened for trial operation. With a total floor area of 65000㎡, it includes a complex building for outpatient, inpatient and emergency treatment as well as medical auxiliary rooms, and increases the number of beds by 650. In addition to better environment, improved services and new cutting-edge equipment, the Zhongjiang Division has also been equipped with intelligent systems including smart triage, remote visiting and digital operating room, and utilized medical technologies to improve medical treatment level and management efficiency. In the new division, the valuable heritage of The Fifth Hospital of Deyang glows with vigor and vitality.

Smart triage
Remote visiting
Digital operating room

With the Zhongjiang Division coming into use, The Fifth Hospital of Deyang will operate with all divisions integrated into a whole, to link up hospital management, human resources, information system establishment and logistics support, further expand the coverage scope of its services, strengthen its leading role among member hospitals in this region, and protect the life and health of more people in West China.
Improving the Well-being of Cancer Patients

In recent years, the incidence rate of cancer has increased so rapidly in China that it has become the No.1 "killer" of people's health. Thus, demands for professional oncological medical services have also increased. In China, most medical technicians and equipment for cancer treatment are concentrated in first-tier and second-tier cities, which makes the demands more urgent in third-tier cities and below.

Siping is a prefecture-level city of Jilin Province and located at the junction of Liaoning, Jilin and Inner Mongolia. Established in 1998, the Siping Cancer Hospital under Horizon Healthcare is the only hospital specializing in cancer treatment in Siping. Through years of development, it has integrated medical treatment, teaching, scientific research, prevention, rehabilitation and tumor screening, its titles including President Unit of Siping Anticancer Association and Oncological Medical Treatment Quality Control Center of Siping.
Nonsurgical cancer treatment with interventional therapy technology

In 2019, Siping Cancer Hospital became a member unit of the regional center for remote pathological diagnosis of Horizon Healthcare. Backed by the advantages of Horizon Healthcare, a strong expert team and advanced technologies and equipment were introduced into Siping Cancer Hospital, resulting in a comprehensive improvement of its pathological strength.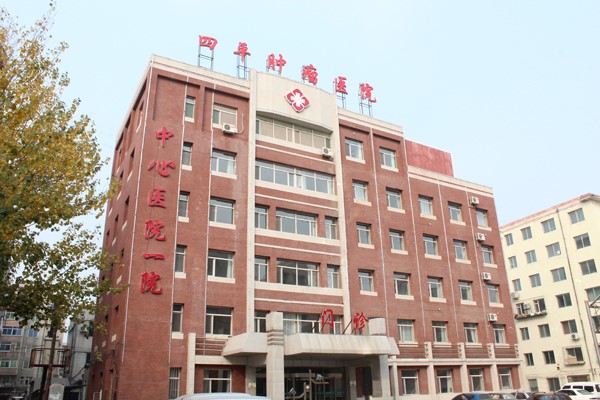 The old Siping Cancer Hospital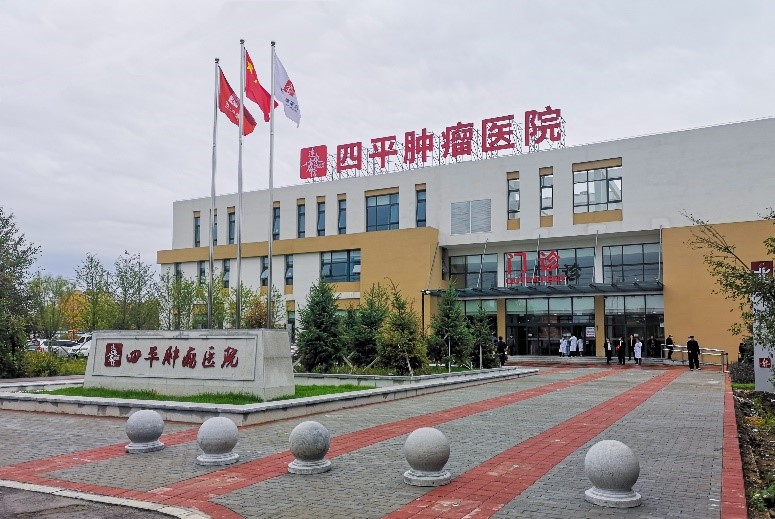 The new Siping Cancer Hospital

With 2021 coming to the end, Siping Cancer Hospital has been relocated to a new site with its new complex building and radiation building put into use. With a better environment, more advanced equipment and the support of cutting-edge diagnostic and treatment technologies, Siping Cancer Hospital will satisfy the diagnosis and treatment demands of more patients with greater capacity, relieve the pressure of regional cancer treatment considerably, and actually solve the difficulties encountered by patients in seeking diagnosis and treatment services.

Devoted to saving the lives and safeguarding the health of people, the brand-new Siping Cancer Hospital will bring hope of life and recovery to more cancer patients, and endow countless families with heart-warming strength to fight against illness.
The names Nayong, Deyang and Siping may be new to you, but they have been the footholds of Horizon Healthcare for many years. Since the planning of the first hospital in its overall arrangement, Horizon Healthcare has always adhered to the principle of "differential layout" in the establishment of medical institutions. With focus on third-tier, fourth-tier and fifth-tier cities and counties, Horizon Healthcare is committed to introducing medical resources to places where they are most urgently needed by people at grassroots level, so that everyone has equal opportunity to enjoy medical services.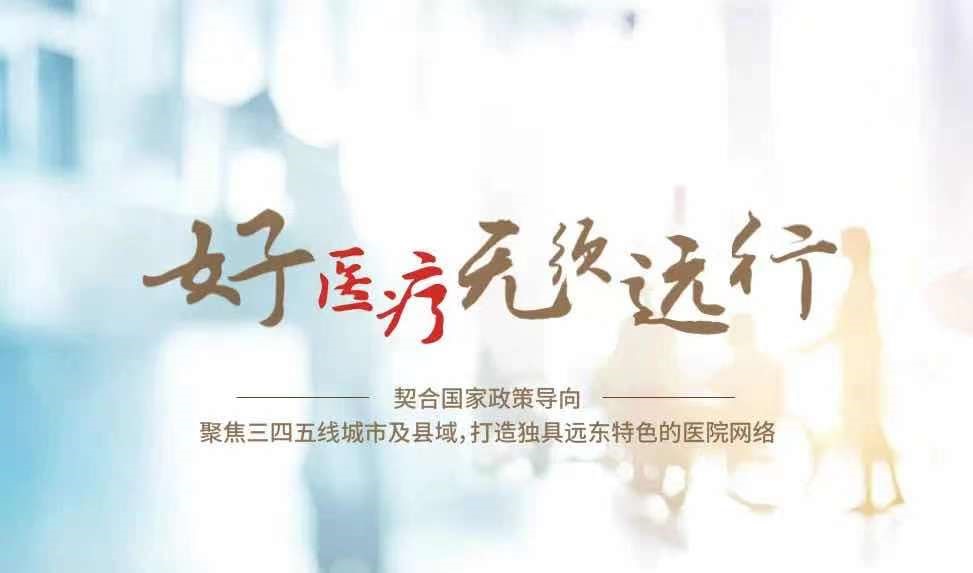 Good medical services within everyone's reach
In line with national policy
Create Far East Horizon's unique hospital network with focus on third-tier, fourth-tier and fifth-tier cities and counties
Health is the fundamental need of people, and healthy people are the foundation of a nation. As the 14th Five-Year Plan unfolds, China has increased its efforts towards the goal of "healthy China," and Far East Horizon has also reaped the fruits of its social medical undertaking cross the nation. By contributing to the construction of healthy China and providing quality medical services that are accessible to all, we aim to improve the well-being of Chinese people at grassroots level and march forward one step at a time. It is our hope that the sick have access to medical care and the elderly are taken care of. With unremitting efforts, we shall work painstakingly to produce the best possible results.
Scan and Follow
Far East Horizon WeChat