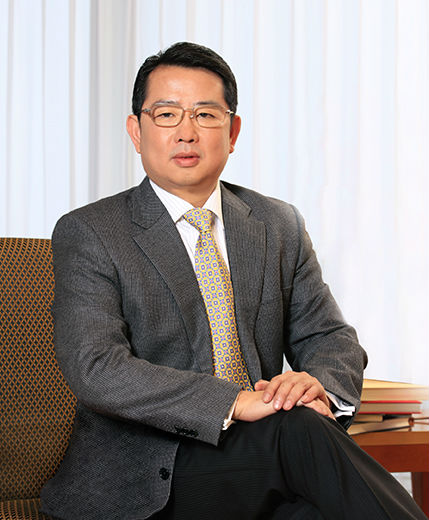 Iron ores are toughened and hardened into steel. Silkworm pupae make cocoons to transform into butterflies. A phoenix obtains new life by rising from the ashes of its predecessor. All of these are owed to unyielding persistence, to the passion for the dream, and to the great effort and belief behind that moment of glory.
In 2001, 11 people with an entrepreneurial dream marched forward regardless of hardship. We trekked hundreds of miles, crossed the Yellow River and the Yangtze River, and finally reached to the South. We started a new life in Shanghai, a bustling city in which we had no kin to turn to. At that time, China's leasing industry was in complete devastation and great depression. Only a few companies still survived. Without funds and customers, the founders of Far East Horizon struggled for survival as if Mount Tai were weighing down on our shoulders. We felt hesitant, painful and even hopeless………
The road stretched endlessly ahead, and yet we kept proving the depths and searching. Inspired by the grand vision of 'building an excellent enterprise', the founders of Far East Horizon, with our indomitable will, fearless courage, innovative ideas and spirit of exploration, have constantly rewritten the history of China's leasing industry. We have constantly overtaken our former competitors, and created one industry miracle after another. In what seems like but a moment, Far East Horizon has taken root and flourished. These 20 years of entrepreneurial experience was also a process by which the founders of Far East Horizon explored the essence of enterprise survival. We continuously innovated our management practice and strengthened our ability to organize resources, forming a unique value discovery and appreciation model.
Through continuous upgrading of our business model, Far East Horizon has created a brand-new business model and started providing customers with financial services in the form of 'industrial division of labor, industrial attachment and professional operation'. We have also actively arranged our industry operation to give full play to the advantages of organic collaboration and mutual promotion between finance and industry. We have organized and implemented innovative business development to drive value creation through brand-new and more effective resource organization and operation practices.
All along the way, the founders of Far East Horizon have maintained the military management style of being brave in overcoming difficulties and challenging ourselves. Bit by bit, we have formed a unique team culture, which we call the 'spirit of Far East Horizon'. That is, the determination to pursue the truth, the rigorous and pragmatic work style, the idea of promoting innovation, the courage to face difficulties and dangers, the indomitable will, the mindset of responsibility to the world, and the resolution to be a pioneer. This is the essence of the Far East Horizon team.
Looking ahead, we will, as always, strain every nerve to march forward in an effort to build a more outstanding enterprise, and summon up all our energy to achieve great goals. We will create higher value for our customers in a legal, compliant and reasonable manner so that Far East Horizon will become a magnet attractive to resources from all sides so as to be needed by all walks of life.
We are glad to have the honor to witness this era of rejuvenation of the Chinese nation and to grow together with all our partners in a harmonious environment.
Those fearless of the wind and the waves dare set sail for a voyage. Let's go hand in hand to create a better future.
Far East Horizon Co., Ltd.
Chairman of the Board of Directors, Executive Director, CEO